The truth can be hard to find, perhaps especially in Washington.  But that difficulty makes the search even more important–and in our first week of the semester, we've been searching.
.We begin each semester in Ethic and Leadership with The Infamous Skittles Scenario, an SEGL tradition.  A hands-on state-of-nature simulation that has students scurrying after plastic bags of candy and whooping with delight or dismay at 3×5 "Chance" cards, the simulation is an engaging introduction to ethical decision making.  (What would you do, after all, if there were no rules and limited resources?  Would you use that gun you found?  Help out a suddenly-blind friend?  Lie?  Join a makeshift band of marauders?)  The conversation that followed was both high-energy and reflective.
We then gave the students an introduction to classic Western ethical theory–Aristotle, Kant, and John Stuart Mill–a 20 minute lecture punctuated by excellent student questions.  (We will introduce other ethical thinking models as the semester progresses.)
On Wednesday, we began to apply our learning to the real world, using modern journalism as our example.  Our first exercise helped students understand the challenge of modern news production and consumption: after asking each student to write down the news sources she or he used most, we asked all students to arrange those sources on a matrix.  On the "x axis" of that matrix was the liberal-conservative spectrum; on the y-axis how reliable each source was.  The results were fascinating and showed both assumptions and blind spots in our group's favorite news sources.  (Most students grouped their news sources in one quadrant: which do you think it was?)
Then the students put themselves to the test: after viewing a brief "primary source video" (start at 0:25) without title or commentary attached, they wrote (in groups of four) the first paragraph (sometimes called a "lede" or, these days, a Tweet!) and headline of a news story intended for publication or broadcast.  We then compared their work with actual news sources from across the journalism spectrum.  What a difference one verb, or passive vs. active voice, or a small omission, can make!
After lunch we met our first guest expert of the semester: three-time Pulitzer Prize-winning New York Times journalist Eric Schmitt.  Among other distinctions, Schmitt was the Times' main contact for WikiLeaks founder Julian Assange, and Schmitt has ample experience wrestling with the ethical issues our case study raised.  The students heard intense stories (Schmitt once crawled into Saddam Hussein's cramped final hideout and has been "embedded" with military groups several times), his take on the current media landscape and reporters' media bias, his advice for news readers in the "fake news" era, and of course a few thoughts on President Trump's relationship with the media.  (Like nearly all SEGL guests, Schmitt's comments were off-the-record.)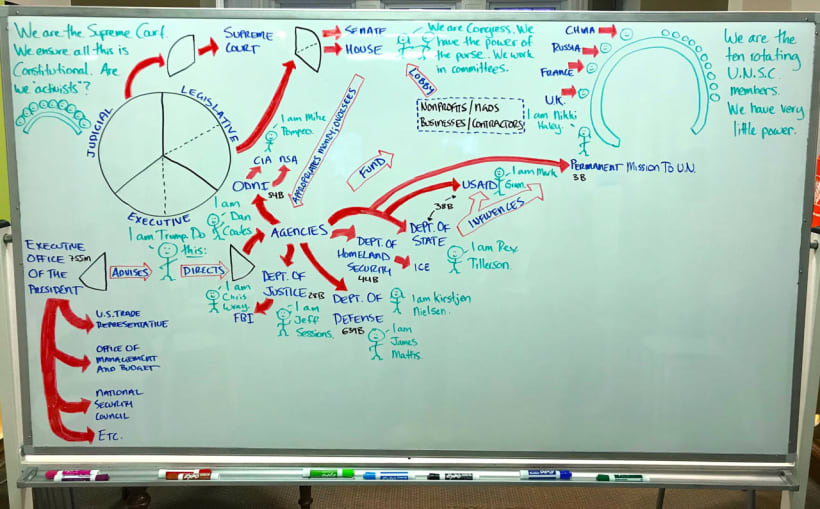 We were scheduled to see two leading journalists later in the week but both rescheduled due to coverage of the now-famous "memo" gripping Washington this week.  Karoun Demirjian (who has had two front-page Washington Post stories in the last two days) and Tucker Carlson (who will host us for a live taping of his Fox News show) will both meet with students in the next two weeks.  In their place, we treated students to a one-hour overview of U.S. government that should prove helpful in the weeks ahead as the students decipher current events.
This afternoon brought our first "Saturday Academy" (a twice-monthly visit to a noted DC landmark): a trip to the Newseum, where students saw pieces of the Berlin Wall and World Trade Center, the famous Pulitzer Prize-winning photos gallery, and an exhibit honoring the 50th anniversary of the Vietnam War's Tet Offensive.
Next up: two weeks examining leadership in times of crisis: the Rwandan Genocide and the Israeli-Palestinian Conflict.