The first Friday evening of the SEGL semester has become something of a tradition.  As the sunlight fades over the horizon, we huddle over tables in the Academic Building's Parlor, grappling with Bud Krogh's life-and-death case study and putting newfound ethical thinking skills to the test.  It is more than enough critical thinking for one day. But later that evening we gather in the Residence to confront an even more challenging case.  The common room lights fade and the wide eyes of our students reflect difficult scenes from "Ghosts of Rwanda," a powerful PBS documentary about the 1994 genocide–a genocide that killed at least 800,000 people in three months.  Our students' eyes often grow tearful as they consider lost opportunities, lost leadership, and lost lives.  The conversation afterward always cuts deeply, leaving students more drained and also more purposeful.  (After watching the film, it is hard to stand in our front yard watching the Capitol gleam in the moonlight without feeling a greater sense of direction.)
This week we met with three "stars" of the documentary.  Along the way, we practiced a new leadership skill: how to ask a good question.
Asking questions is, many would argue, a lost art.  Too many of our questions lack civility: they are designed to attack, to trap, to bolster our own viewpoint, to demonstrate our own superiority.  Not enough reflect a central SEGL value: that the intellectual project is best conceived as a shared endeavor whose goal is truth (or, at least, better understanding).  With that in mind, we help students formulate questions that encourage meaningful answers that will inform their future leadership decisions.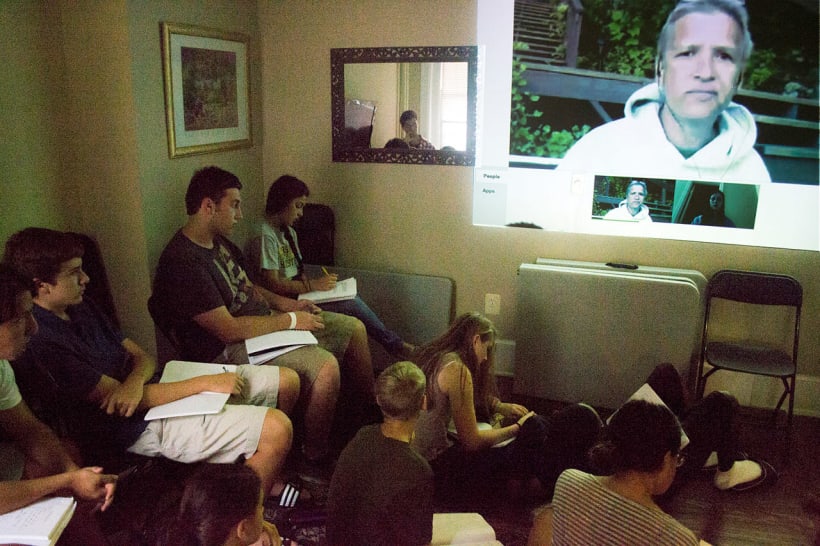 On Saturday morning, we met [via videoconference] with Carl Wilkens, who has met with every SEGL class since the program's inception.  Wilkens was the only American (and one of a handful of Westerners) to stay behind during the Rwandan genocide. He saved hundreds (if not thousands) of lives because of his actions, particularly with orphanages, and after a decade as a pastor at a small Oregon boarding school started his own nonprofit to help prevent genocide.  Our students found his words about humanity's potential for good and for evil inspiring and important, and we are looking forward to his arrival in DC next month.
On Thursday morning, we traveled to the U.S. Holocaust Memorial Museum for an exclusive tour and educational session.  (Thanks to SEGL Board Member and Museum administrator Jesse Nickelson for arranging this special opportunity.)  Alone in the museum with tour leaders (one of whom was a Holocaust survivor) before the official museum opening, the students learned about the roots and effects of the most notorious genocide in history.  After the visit it was easy to draw parallels, not only with Rwanda, but with other current situations that pepper the globe with injustice.  How do we recognize the roots of genocide?  How do we stop it before it happens?  How do we reconcile afterwards?  The questions were profound and the answers not easy.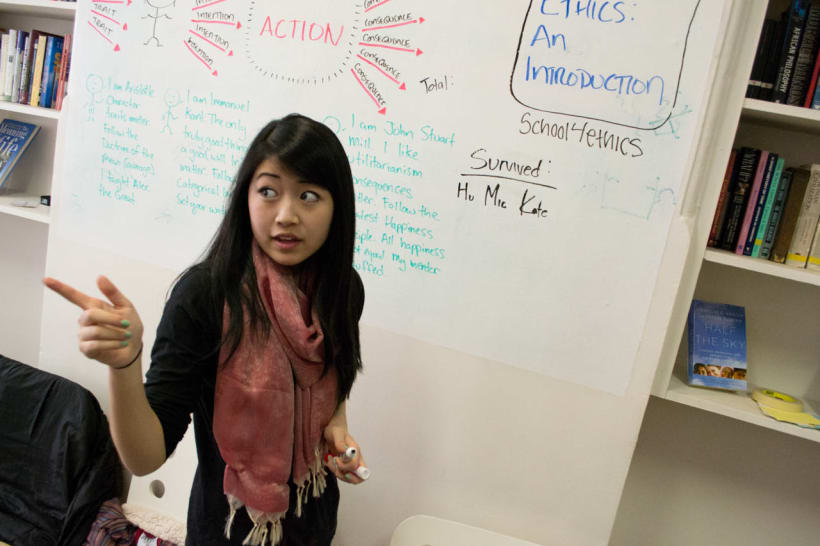 On Thursday afternoon, we met with Laura Lane, who singlehandedly organized the evacuation of every American other than Carl in 1994.  Her more regretful perspective on the same ethical dilemma–whether to go or to stay in the face of unspeakable evil–as well as her actions during the evacuation (which saved hundreds of Rwandans), left many students equally moved and inspired.  We met in UPS's DC headquarters; Lane now leads that company's international government relations.
![](https://res.cloudinary.com/segl/image/upload/v1577309170/DSC_0003.jpg
On Friday morning, we traveled to the new United States Institute of Peace building, located across the street from the State Department, to meet with Ambassador George Moose.  Ambassador Moose served as Assistant Secretary of State for Africa during the genocide.  As such, he was a key part of the decision making that many observers have critiqued.  In clear, measured words, Moose helped our students understand the hidden difficulties involved in making the right decision (legal arguments about Rwandan hate radio's freedom of speech, a slow-moving bureaucracy, a lack of intelligence information, cautiousness after recent excursions in Bosnia and Somalia, the 15 other international situations the U.S. was helping to manage at the time, etc.) and also expressed his own regrets over the missed opportunities to help.  Along the way, he shared a key ethical position: that the first obligation of governments is to protect the life of their citizens.  Would involvement in Rwanda have violated this primary obligation?  Should that be the primary obligation of governments?  The students had much to think about on the walk home.
This weekend's English class involved preparation for next week's case study on speechwriting with SEGL favorite Lissa Muscatine as well as a trip to the National Zoo and a night-time monument walk on the National Mall.