How would you make DC better?That is the question our students confronted in a new case study this week.  After hearing an overview of DC's political situation and key issues on Monday, the students formed four groups that each tackled one of the District's thorniest issues: HIV/AIDS (DC faces an HIV epidemic), education (DC's public school system is considered among the least effective in the country), urban development (DC's rapid gentrification has created many growing pains), and statehood (DC has no Congressional representation and needs its budget approved by Congress).  Each group's charge?  To create a policy statement for an imaginary mayoral candidate that was both ethical and politically feasible.
On Wednesday, they visited local leaders and experts who had opinions on many sides of these issues.  The HIV/AIDS group visited longtime SEGL speaker Justin Goforth, the Director of Community Relations at the Whitman-Walker Clinic, DC's largest HIV/AIDS clinic, and Jeff Crowley, former Director of the Office of National AIDS Policy.  The education group met with Linda Moore, Founder and Principal of the Elsie Whitlow Stokes Elementary School, and Jesse Rausch, the Executive Director of the D.C. State Board of Education.  The urban development group met with Natalie Hopkinson, Adjunct Professor at Georgetown University and scholar of D.C. history, Harry Jaffee, journalist at The Washingtonian, and author of Dream City, and* *Antwayne Ford, Chair of the DC Chamber of Commerce.  Finally, the statehood group met with Julia Shaw, Research Associate from the Heritage Foundation, Eugene Kinlow from DC Vote, and Senator Paul Strauss, the Shadow Senator representing Washington, D.C.  These guests sparked robust discussions and generated a new understanding of DC's complex political landscape.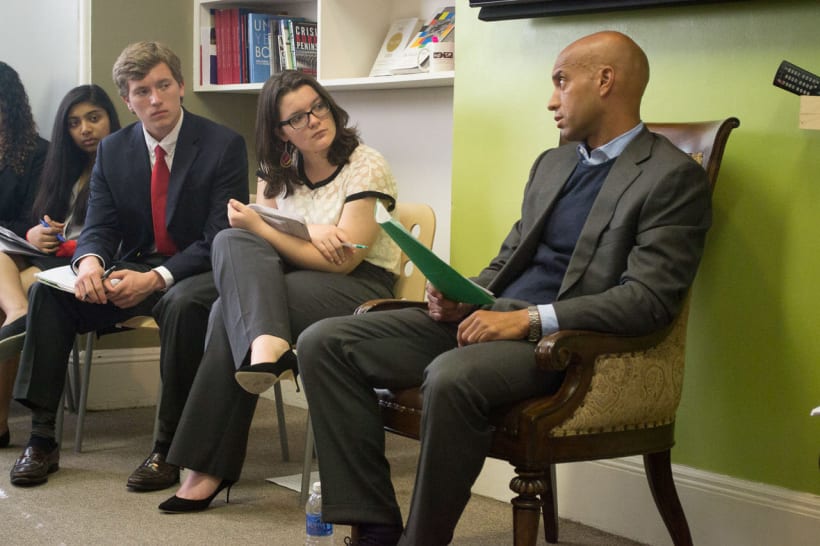 On Friday we welcomed former DC Mayor Adrian Fenty, a longtime civic leader and City Council member who was Mayor from 2007-2011.  One by one a representative from each group stood and delivered a three-minute overview of the policy statement.  And one by one Fenty grilled the groups with tough questions.  "What is the most important indicator of a quality school?" he asked the education group.  No, it isn't test scores, or teacher performance, or student engagement."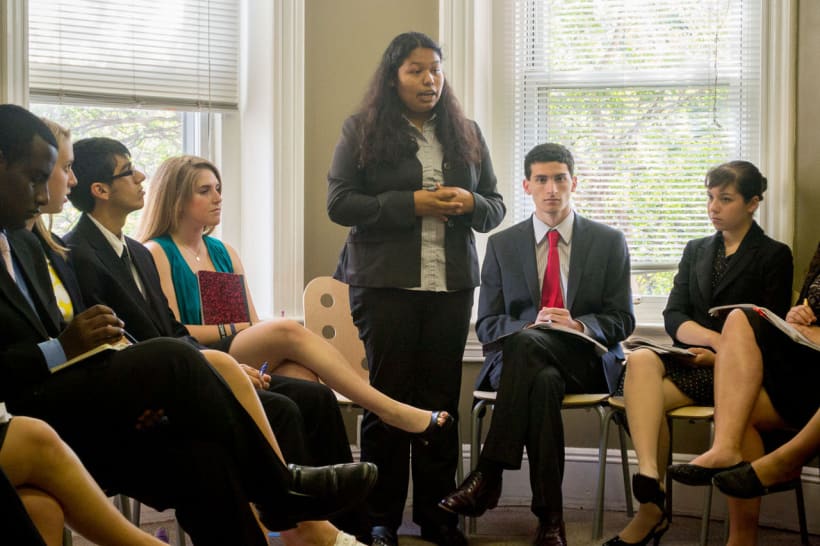 It is "whether or not you would send your child there."  Yes, he supported DC Statehood, and all the reasons the students gave for why it was right were appropriate, he said, but "HOW are you going to make it happen?" when Republicans in Congress will simply never allow Democratic DC to become a state?  These questions and many others provoked engaging encounters and student reflection.  The students were also impressed by what they said was Fenty's easy and authentic style.  "It felt like he was taking us seriously," one said to general agreement.
Meanwhile, on Saturday we had our traditional semester Talent Show.  From songs to slam poetry and from magic tricks to make-up tutorials, the evening was hilarious and morale-boosting as we head into AP season.  What a fantastic group!