It is hard to imagine a more fulfilling week than the one our students just shared.  Our penultimate week is devoted to an intensive study of crisis management, particularly in foreign affairs.  On Monday morning the students heard a basic introduction to international relations: first, an overview of social contract theory (Hobbes, Locke, and Rousseau), and second, an overview of realism, liberalism, and other key IR theories.  The students asked themselves questions like "why do governments form in the first place, and what does that have to do with how governments ought to interact together?" "what is the proper role (if any) of the United Nations?" and "is it right for a country to risk its own citizens' lives in order to promote human rights?"  Several case studies from earlier this semester (perhaps most notably our Rwanda week) echoed through the conversation.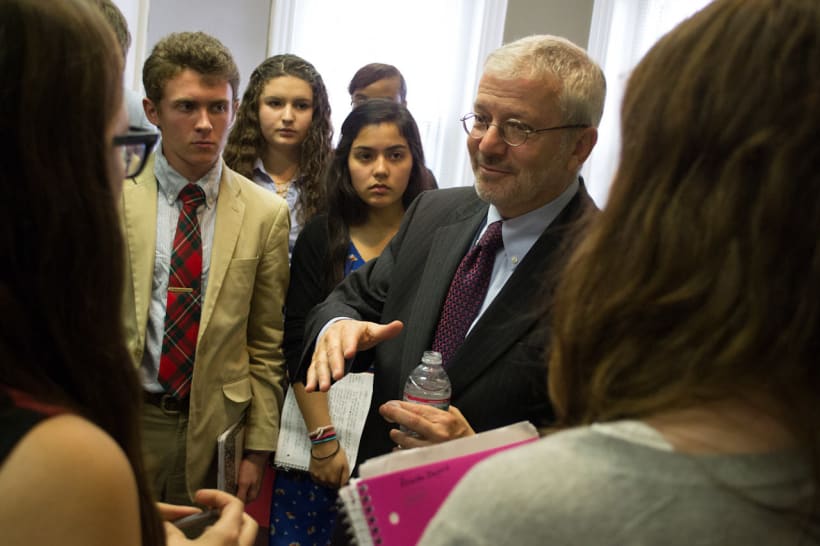 On Wednesday, we welcomed former White House Chief of Staff Josh Bolten back to SEGL for the first of the week's four (yes, four!) "Master Classes."  Bolten, who was (along with Vice President Dick Cheney) in charge of the White House during September 11, gave a riveting first-hand account of that morning and the extraordinary decisions he and others had to make from inside the bunker underneath the White House.  The students wrestled with the ideal chain of decision making (what is the first thing you do when you hear two planes have hit the World Trade Center?) and with the difficult ethical question of whether to shoot down what would later be recognized as United Flight 93.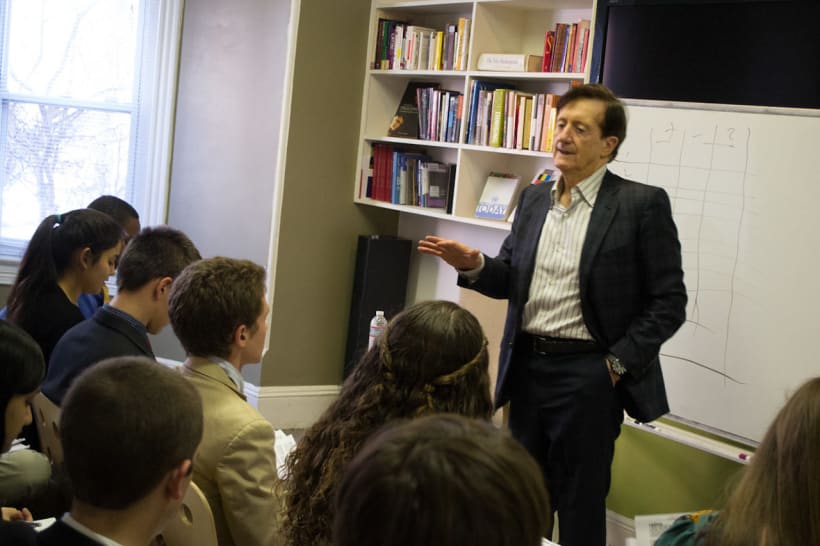 That afternoon, Robert Kamerschen, former CEO of Max Factor, Six Flags, ADVO, and many other companies (and grandfather of one of our students), joined us for a fascinating session on crisis management from a business perspective.  A leading force behind memorable business strategies like Revlon's "Charlie" perfume and the Dunkin' Donuts "munchkin," Kamerschen began by directing a spirited conversation about the most important leadership qualities (he had given the students a list of traits and asked them to defend their top choice).  He then walked the students through a case study from his own experience: what do you do when everyone wants to be in your advertising mailers but postage costs are enormous, the company is losing money, and the newspaper industry has dubbed you the "Junk Mail King"?  How do you frame layoffs to your employees in such a way that morale remains high?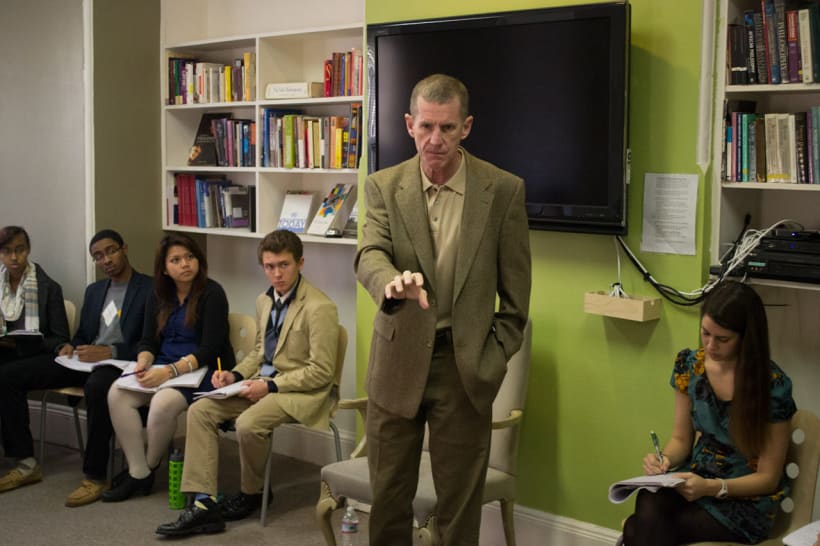 On Thursday morning we woke up early for a 7:45am meeting with General Stanley McChrystal, one of our era's most respected military leaders.  The four-star General's storied career included commanding the U.S. effort in Afghanistan and leading the effort to kill al Qaeda leader Abu Musab al-Zarqawi in Iraq.  The discussion McCrystal led was arguably the most dynamic and impressive in our school's history.  What do you do when, as a new commander in Afghanistan, the Afghans insist you spend key resources to save a remote town with little strategic importance in the war?  What do you do when you hear a small number of your soldiers have tasered an Iraqi who might know Zarqawi's whereabouts?  What do you do when you know you can bomb a house and kill a ruthless Taliban leader…and his family?  Hands flew all around the General as he refereed an energetic discussion and offered his own insights.
Friday afternoon the students put their crisis management knowledge to work in an intense, four-hour crisis simulation in which each student played a key member of the Executive Branch.  Over the course of the simulation, the President and her (yes, her) team learned important information about a series of international an domestic issues that required tough decision making under time pressure and also public relations skills.  Our faculty played members of the domestic and international community in videoconferences, videos, leaked "intelligence," and in person (at the height of the action, the President was required to spend ten minutes reading a bedtime story to her child…).  We won't spoil the details for future semesters; suffice to say, lives were lost, lives were saved, ethical decisions were bandied about, and the President's final press conference was impressive.  For many reasons, it was a fitting final Ethics and Leadership exercise for a terrific group of students.
But wait…that's not all!  On Friday during lunch we received another special treat: a return visit from former chief Hillary Clinton speechwriter Lissa Muscatine.  Ms. Muscatine walked the students through the nuances of her most famous speech: Clinton's 1995 "women's rights are human rights" address in Beijing to the 4th UN International Conference on Women.  The students came to the discussion with their speech copies marked up and worn, and the discussion that ensued placed a wonderful end point on an English class built around the theme of political communication.
One more week to go.  We will certainly miss each of these students come Saturday afternoon.