In the landmark 2008 DC. v Heller case, the Supreme Court held that the Second Amendment gives Americans the right to own handguns. Was this the right decision Constitutionally?  Ethically?  What about related issues, like registration requirements, trigger locks, concealed carry permits, and assault weapons? These questions and others made for an exciting, dramatic, and enlightening week.
On Monday we asked students to align themselves on a spectrum according to how strongly they agreed or disagreed with a series of questions about hot-button Second Amendment topics.  Following this, students heard an introductory lecture on the Second Amendment and the Heller case.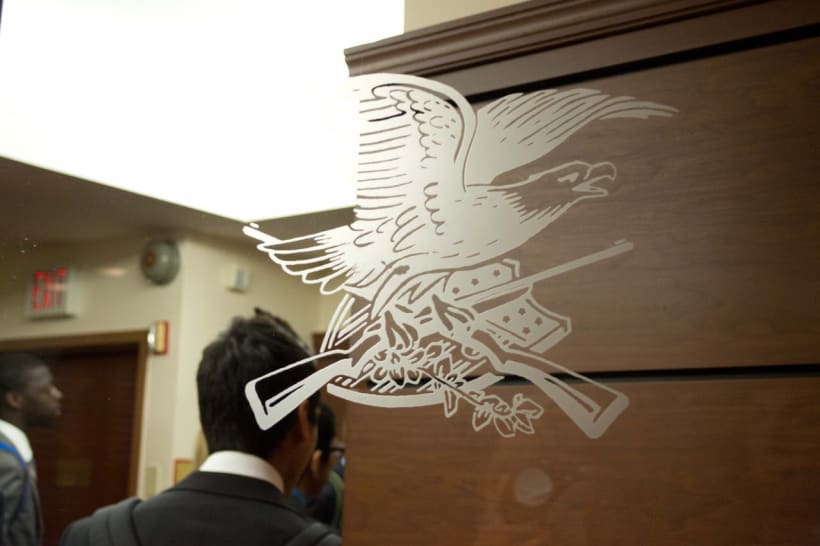 On Wednesday we started out at the NRA's DC headquarters, speaking with Ben Cassidy, one of the organization's lead lobbyists.  Cassidy explained the core "individual rights" philosophy of the "oldest civil rights organization in the country," sticking to his metaphorical guns as he answered an intelligent barrage of questions from our students.
Later that afternoon, Ladd Everitt, Director of Communications for the Coalition to Stop Gun Violence, provided an articulate counter-argument, arguing passionately that the Supreme Court misinterpreted the intent of the Second Amendment.
On Friday, Clark Neily, Senior Attorney at the libertarian Institute for Justice, provided a charismatic and engaging presentation for students. Neily was the attorney who organized the Heller case, serving as co-counsel in the Supreme Court oral arguments.  Neily's compelling answers to student questions and his clear explanation of his libertarian-based viewpoint on Heller captivated students and made many question their assumptions about gun control.  After his presentation and our formal Q & A session, a gaggle of students kept him occupied with questions until it was time to head home for Friday evening pizza night.
In the next few weeks we plan on meeting with one more major player in the Heller case: former DC mayor Adrian Fenty, who argued publicly for the continuance of DC's handgun ban.
Next up: our capstone collaborative policy document. The topic? Guantanamo Bay. (There is never a dull moment at SEGL!)