How do you confront the most intractable disagreement of our times?  A disagreement so fundamental that each side feels passionately about an entirely different set of facts?  This was our challenge this week: the Israeli-Palestinian Conflict.
On Monday the students heard an interactive lecture outlining the basic elements of the conflict: the historical events (was it the "War of Independence" or "The Catastrophe"?), the leaders (is Abbas the legitimate Palestinian leader?), the key sticking points in negotiations (are the settlements "ethical"?), and the current situation (how does the Syrian crisis fit in)?

On Wednesday, we traveled to the Woodrow Wilson Center (a leading DC think-tank) to meet with the noted expert (and advisor to six Secretaries of State) Aaron David Miller.  Miller helped provide context for the current status of the conflict, answered questions about his time as a lead negotiator for the U.S. (for example, at the 2000 Camp David II discussions), and offered a memorable piece of advice drawn from John F. Kennedy: when asked about his political leanings, Kennedy said "I am an idealist without illusions."  Miller urged SEGL students to adopt a similar mindset.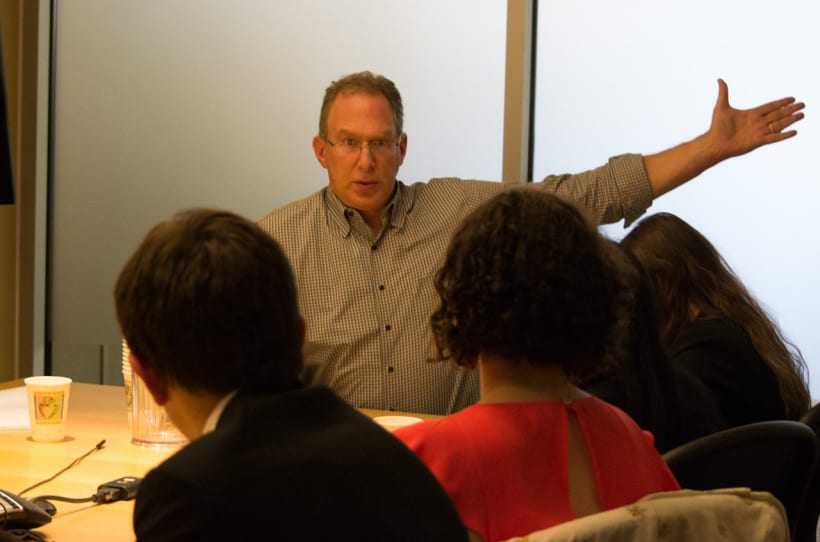 We then visited the American Israel Public Affairs Committee (AIPAC), the most high-profile pro-Israel lobbying organization in the U.S., to meet with AIPAC Director of Leadership Development Jonathan Kessler.  Kessler's articulate presentation provoked challenging questions and a great deal of informal buzz after we left.
On Thursday we welcomed SEGL Fall 2009 graduate Suhayb Al-Jawhari for a lunchtime conversation.  Suhayb, who is of Palestinian descent, told on-the-ground stories from his family's experience ("many Palestinian refugees still have the key to their original homes in Israel and believe they have the right to return") and his activism as a college student.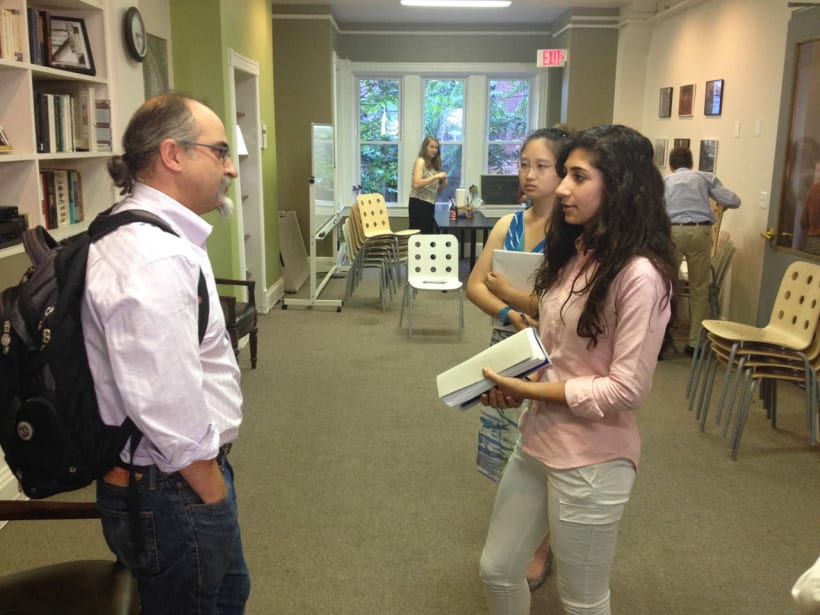 On Friday we spoke with Ghaith al-Omari, the Executive Director of the American Task Force on Palestine.  Mr. al-Omari sat opposite Aaron David Miller at the 2000 Camp David II negotiations and served as a senior advisor to Palestinian President Mahmoud Abbas.  His presentation mixed poignant stories, organized arguments, and memorable quotations.   (For example, he said we need to stop thinking of the conflict as a bad marriage that can be improved; instead, what is needed is a thoughtful divorce proceeding.)
The presenters this week brought up at least as many questions as answers.
Meanwhile, on Wednesday morning the students undertook a classic SEGL activity: the Leadership Styles exercise.  They used two questions to divide themselves into four groups: Drivers, Expressives, Analysts, and Supportives.  We'll let the students explain what each group's strengths and weaknesses are, as well as the conclusions the group drew after the exercise.  In the end, our hope is that exercises like this help our students work more efficiently and enjoyably with each other.  We also hope each student will better understand her or his strengths and opportunities for growth as a leader.
Next up: Gun Control and the Second Amendment!