This November, SEGL Graduate Azé Williams (Spring '19) launched her SEGL Social Venture Project: a Thanksgiving food bank at her public high school in Newark, New Jersey. The Social Venture Project (SVP) is one of three SEGL capstones, and is designed to link each student's learning here with a need in her/his home community.
Each SVP is unique, as is its creation story. Each reflects our mission at work.
We caught up with Azé last week.
Q: Tell us a little bit more about your Social Venture Project (SVP) and your motivation for selecting this particular project to help in your community.
AW: My original Social Venture Project (SVP) was to feed those in need in my community by planting an urban garden and donate the harvested vegetables to a local transitional housing facility.
I quickly realized that my school schedule as well as New Jersey's seasonal schedule for planting fruits and vegetables meant I needed to change my SVP slightly. So I decided to look at the other ways that I could help provide food to those in my community. I was aware of families in need at my high school, Science Park, including some friends who only have access to the school's provided meals of breakfast and lunch. I wanted to do something to help so I decided to create a food pantry at my school.
Q: How did you start?
AW: My first step was to create a team. In August of 2019 I enlisted a friend (Eiyannah) to join me. We knew we wanted to officially open our food pantry just before the Thanksgiving break so that we could provide baskets of food for Thanksgiving dinner to families at our school. Working backwards from the November deadline, we laid out a plan to secure a location for the pantry, encourage and promote our collection of non-perishable food and of course enlist the help of our school's administrators.
Q: With your plan in place, what did you do next?
AW: We made flyers and announced to the school every morning that we were collecting non-perishable donations. We had our own table at Back-to-School Night, advertising our cause to as many parents as possible. We met with school organizations like the National Honor Society and the Spanish Honor Society, and encouraged them to get together and donate to our cause. We also met with our school's principal (Ms. Mincy), parent liaison (Mr. Jenkins), and principal's assistant (Ms. Bray), to help advertise and organize the Thanksgiving dinner giveaway.
Ms. Mincy gave us permission to clean an old storage room to use for our food pantry. Mr. Jenkins reached out to ShopRite to ask for turkey donations. Ms. Bray helped us clean the storage room and stock the pantry.
Q: What did you learn along the way in launching your food pantry?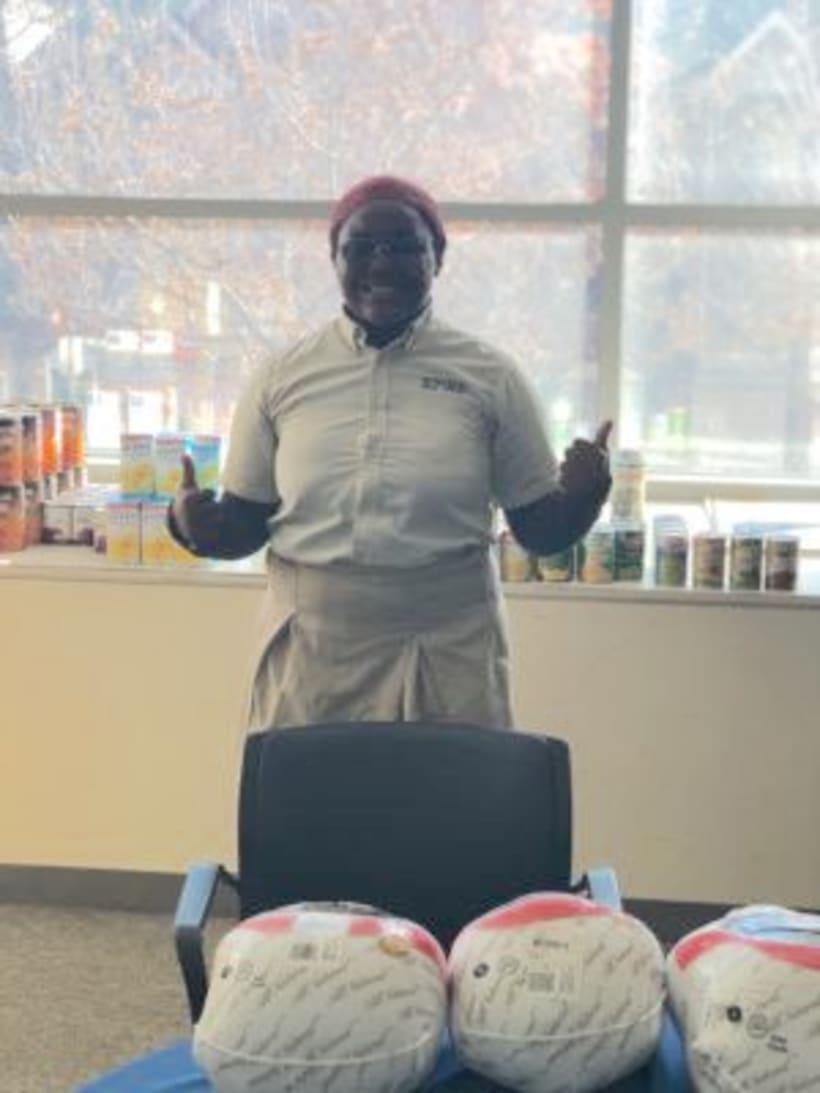 AW: I learned to be prepared for anything. Oddly enough, people didn't begin donating until the first week of November. And this was the first complication in our plans. We wanted to give out the dinners a week before Thanksgiving so the adults on our team could attend to whatever responsibilities they had to fulfill the week of Thanksgiving, like shopping for their families, traveling or submitting grades. That did not happen.
The week before Thanksgiving, we didn't have enough donations for about two dozen families, nor did we have a confirmation from ShopRite about the turkeys. But my team and I stayed hopeful because we wanted to help our Science Park families.
We decided that Mr. Jenkins should go to ShopRite to negotiate with the managers and he was able to secure 25 turkeys! And Ms. Bray organized her coworkers to come together and buy over $100 worth of goods to make up for whatever we lacked in donations.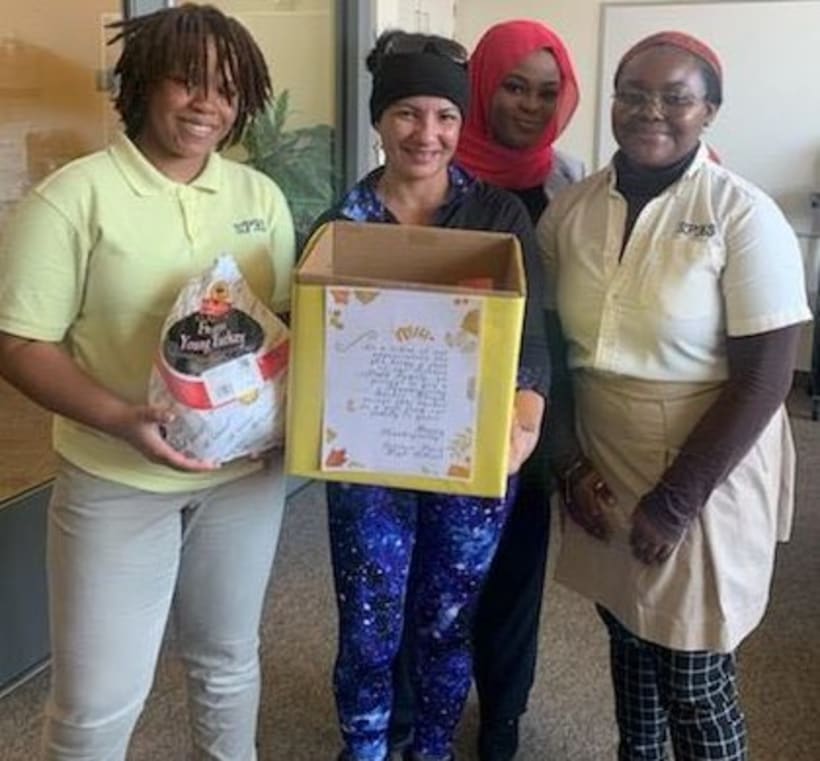 We asked all the families to come in Tuesday, November 26, two days before Thanksgiving, to pick up their baskets. That morning, Eiyannah and I had to miss all of our morning classes to get ready for the donations. First we had to wrap the boxes in wrapping paper, then pack the boxes, and also create a warm letter to the families we were donating to and tape the letter onto each of the boxes. We ended up giving away 24 turkey dinners!
Q: Congratulations! That must have been a wonderful feeling!
AW: Seeing the smiles on the families' faces as we presented them with the baskets was incomparable to anything I've ever achieved. Knowing I helped make someone's life a little easier is all the motivation I need to get our food pantry legitimized and ensure it lasts after we graduate.
Q: Yes, tell us a little bit more about what's next for your social venture project.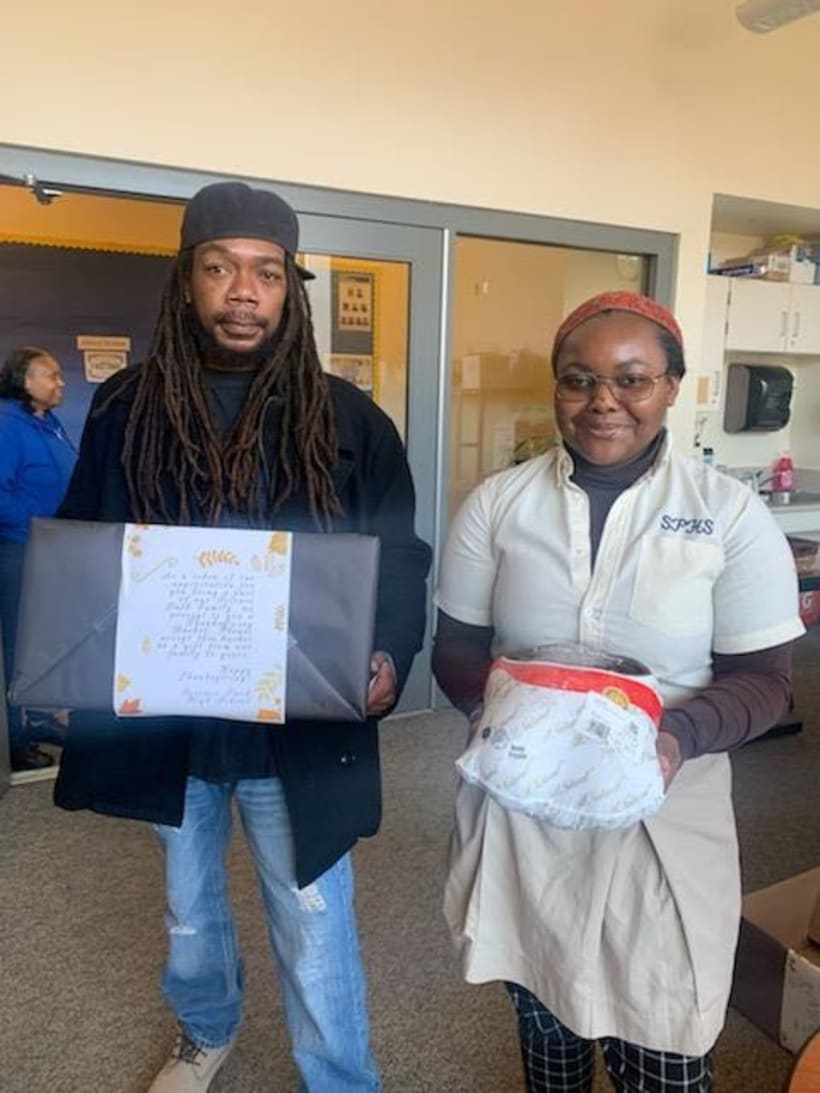 AW: As Eiyannah and I are both seniors, our next step is to partner with the Community Food Bank of New Jersey. This will legitimize our food pantry and provide us with greater resources so that we can expand our reach to other families in the Newark area. This partnership will also allow us to give monthly food donations to Science Park families. As we know, families in need could use the help all through the year and not only during the holidays. We plan to have each of the sports teams and other school clubs host the food pantry's monthly donations for community service hours (every student needs 80 hours to graduate). One team/club would host per month. Eiyannah and I think we could use this as one way to make sure our food pantry stays open after we leave.
Q: If SEGLettes are interested in learning more or getting involved in your SVP, what are their next steps?
IG: Please email me at aw122801@gmail.com if you have any questions or would like to find out how you can join me in helping feed those in need in the Newark area.