Fewer than 1% of Americans serve in our all-volunteer armed forces–nine times fewer than in World War II.  And the great majority of young Americans do not have a close relative in the military.Because many of us do not know those who serve, it can be easy to forget the devastating impact of the Iraq and Afghanistan conflicts on American families.  (Of course, the fighting affects many other families as well.)  It is also easy to forget that our military does not send soldiers, Marines, airmen, and sailors to war, nor does it fund their equipment or health care: our civilian leadership does.
For these reasons, and many more, it is an SEGL tradition to visit Arlington National Cemetery each Veteran's Day and to speak with military leaders about the ethical questions and leadership choices in military conflict.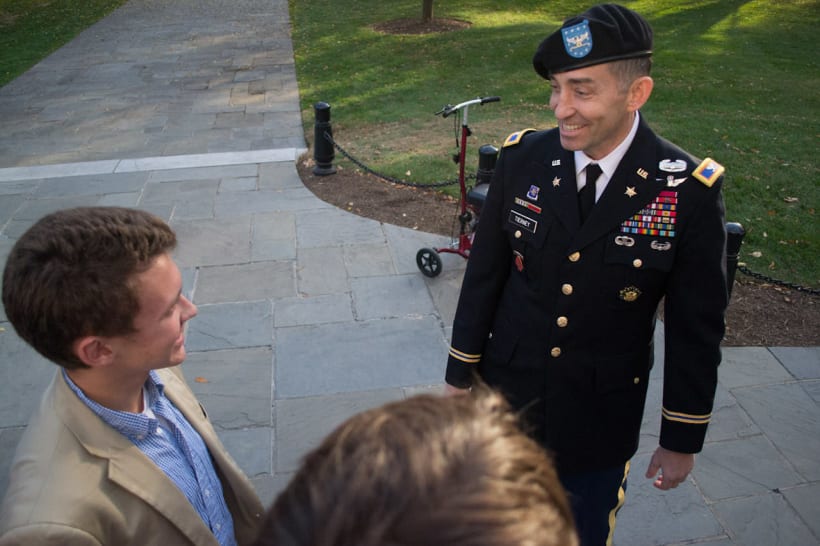 This year the weather was crisp and sunny as we set out from the visitor's center with maps and quiet voices.  Our first stop was a conversation with Colonel Pat Tierney, Director of Army Aviation, who met us just around the corner from the Tomb of the Unknowns.  Tierney spoke about the sacrifices military families make, asked students to connect their previous learning to questions of military leadership, and answered a number of questions ("Have you ever been given an order that you thought was unethical?" provoked a particularly compelling response).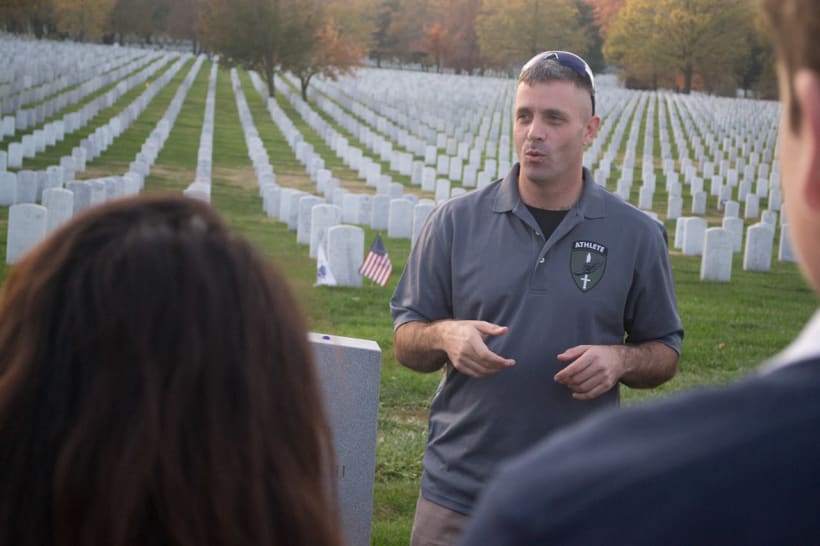 After thanking Colonel Tierney for his time (many students also shook his hand and thanked him for his service), we walked down the hill to Section 60, where most of the fallen Iraq and Afghanistan soldiers rest.  There we met Lieutenant Colonel Paul Edgar, the commander of the 3rd Army Infantry Regiment (more commonly known as the "Old Guard") which is responsible for guarding the Tomb of the Unknowns, staffing visits from heads of state, conducting memorials, and many related duties.  Edgar walked the students to two grave sites (a single soldier lost to an IED and a group of soldiers lost in a helicopter crash), told stories about the men he knew and the circumstances of their deaths, and then answered off-the-record questions about ethics and military service.  As he spoke and the early evening sunlight began to fail, we saw dozens of friends and family members all around us, visiting the graves of those they had lost.
At SEGL, we try to help students see that their choices, for better or worse, have consequences.  In our chore program, in academic readings, and even in our admissions presentations, we hope to encourage students to reflect on this reality and then act accordingly.  Veteran's Day highlights the importance of this process in a particularly poignant way.