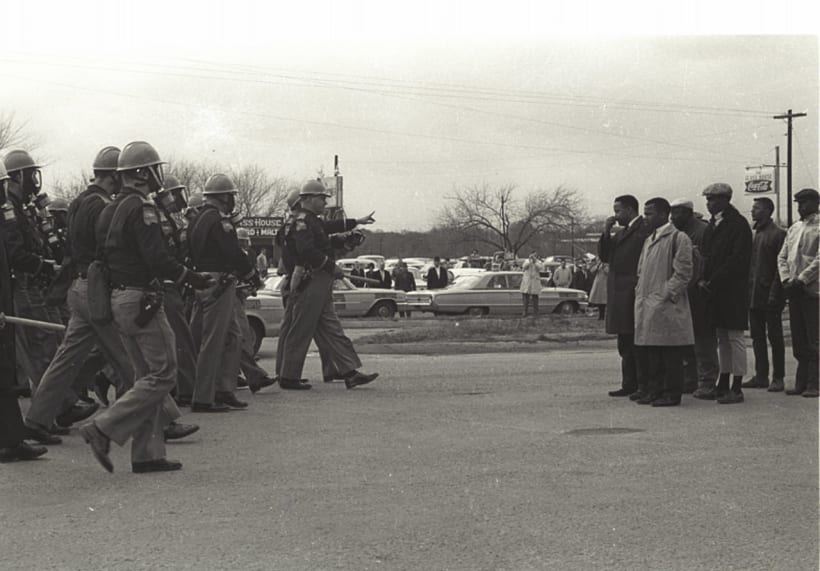 If you were to walk into the SEGL Director's Office, you would soon notice a prominently displayed photograph.  The picture (left) shows the civil rights legend John Lewis in a tan overcoat at the front of a long line of protestors who have just crossed the Edmund Pettus Bridge on the now-famous Selma-to-Montgomery March on March 7, 1965: "Bloody Sunday."  On the other side of the photograph, Alabama state troopers are walking toward the marchers with nightsticks and tear gas, ready to injure the protesters.  In the middle of the frame, journalists look on at history, snapping photographs.
On Wednesday, SEGL students spoke with Lewis, now a ten-time Congressman from Atlanta and an elder statesman of the Civil Rights movement.  He spent an hour with us in his office, telling stories and answering questions about America's past–and current–struggles with civil rights.  Afterward, he stayed to shake hands, sign autographs, and take photographs (many of these pictures quickly became Facebook profile pictures, we are told).
Earlier in the day, a more controversial civil rights veteran joined us at SEGL: Deputy Assistant Secretary of Education Kevin Jennings.  Jennings, the founder of GLSEN (the Gay, Lesbian, and Straight Education Network) and a longtime advocate for LGBT rights, gave a short presentation on the concept of "unearned privilege" and then answered student questions.  Not every student agreed with his point of view–indeed, he has been a lightning rod for criticism from the Right–but all could appreciate the passion he brought to his cause.  "What keeps you going in the face of all the name-calling and strong words?" asked one student.  Jennings took a round pin off his jacket and passed it around.  The button–one of many he wears regularly–honored Lawrence King, a gay boy killed at school by a classmate in 2008.  "What I face is nothing compared with what they face every day," he said.
Many students considered Wednesday the most inspiring day of the semester.  Later in the evening, students reflected on their experience.  Some reflected on how we discuss gay rights at SEGL: should students work harder to make SEGL a safe space for students disapproving of homosexuality?  Others asked about the absence of a women's rights advocate: has the balance between male and female speakers been appropriate this semester?  Others confronted the question of privilege: how should a predominantly white school integrate students of color into its community?
Lewis and Jennings joined us as part of a case study that we originally titled "The State of Civil Rights in America."  However, recent events in the Middle East compelled us also to focus on the struggle for human/civil rights in countries like Tunisia, Egypt, Bahrain, Yemen, Syria, and Libya. What is the proper role for the United States in these circumstances?  Should we intervene if we have no compelling national interest?  Is the Arab world's understanding of civil rights compatible with the American understanding?  By asking these questions against the backdrop of the United States's own struggle, we were able to highlight how difficult it is to get "rights" right.
On Friday, we walked to Lafayette Square and met with Sonal Shah, the Director of President Obama's White House Office of Social Innovation and Civic Participation.  At the White House Conference Center, Shah (a former top executive at Goldman Sachs and at Google.org) discussed the challenge her office faces: how to identify and "scale" effective organizations that originate at the grassroots level.  Your success in creating change should not be measured in the number of people you serve, she said.  Instead, measure success by whether you have solved the problem you are trying to answer.  In other words, what are you doing to put your organization out of business?  And, rather than deciding in advance what others need and then providing what will likely be an imperfect solution, listen first and then form a partnership.  (These words echo those of Ambassador Mark Dybul from our global HIV/AIDS case study earlier this semester.)  Her observations and advice were particularly helpful as students look forward to their capstone social venture projects at the end of the term.
Needless to say, it has been a fantastic week.  Next up is our "Odyssey": stay tuned for more.