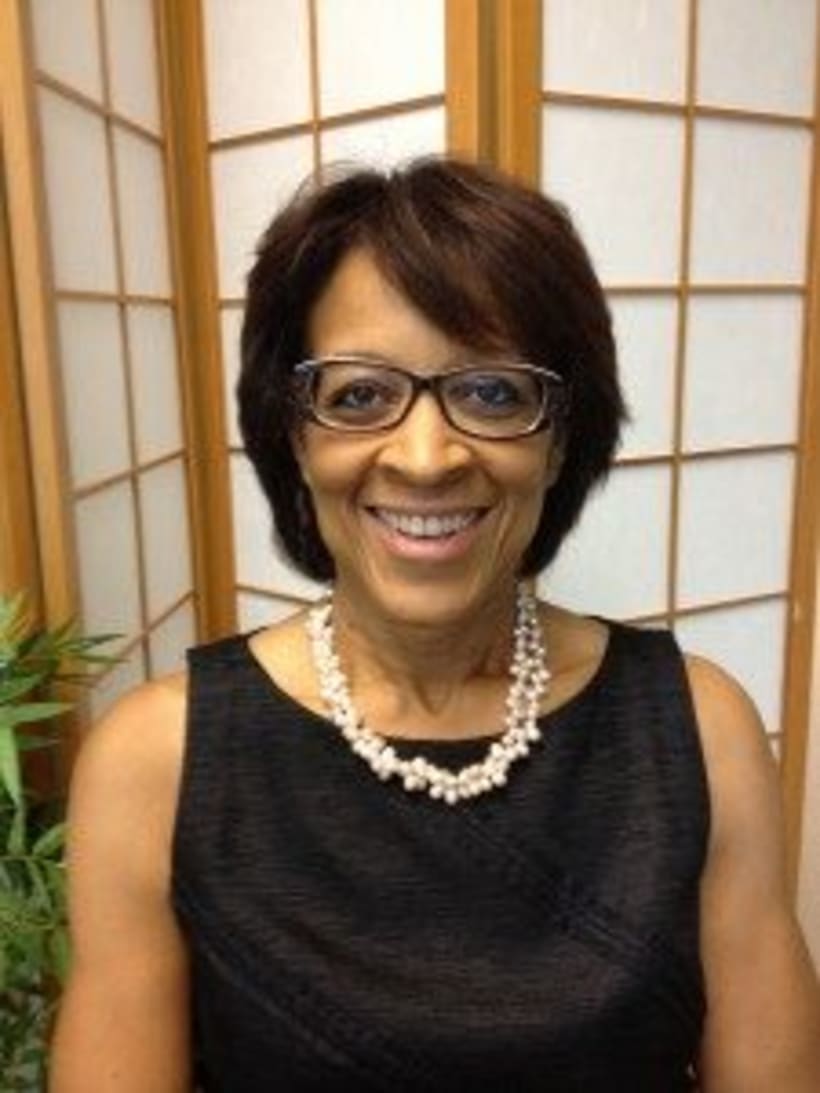 SEGL is excited and honored to welcome Paige Cottingham-Streater as its new Board Chair. Cottingam-Streater, a founding trustee of the School, is currently the Executive Director of the Japan-U.S. Friendship Commission, where she provides strategic direction, increases the visibility of the bilateral relationship between Japan and the United States, and promotes educational and cultural exchange.
Paige holds numerous volunteer positions, including Chair of the Board of Directors of the U.S. Japan Exchange and Teaching Programme Alumni Association and trustee at Montclair Kimberly Academy, an SEGL sending school. She is also the recipient of Japan's Foreign Minister's Commendation in recognition of her longstanding work to strengthen U.S.-Japan relations. Paige received her Juris Doctor from the National Law Center at The George Washington University, and holds a B.A. in Government and Asian Studies from Connecticut College.
We sat down with Paige to discuss what inspired her to work with SEGL, and how she envisions the school's future.  
Q: What influenced your decision to join the SEGL board?
A: It was really Noah's vision and passion for the school, or what at the time was the beginning of the school. Also, this belief that we need to have decision-makers who are not only informed about the world, but who are also ethical in their decision making. There are a number of leadership programs that focus on a specific skill set, but that element of being an ethical decision-maker has been absent from these programs, and establishing this type of program has been very important. I'm happy to be a part of it. 
Q: Can you share a student interaction that has been particularly meaningful during your time with SEGL?
A: I guess the two that stand out the most have been inside and outside the academic setting. First, I was invited to meet with the students one semester for a roundtable lunch session. This was for people who wanted to have a chance to discuss Japan-US relations. It was interesting for me because of my passion for the region and my desire to inform people of the importance of this specific relationship. This was prior to Prime Minister Abe's visit to the US Congress, and I wanted to encourage them to expose themselves to the news during this time. What struck me was how informed the students already were. As members of the board we get great statistics about the admissions process, quality of applicants, etc., but to be able to talk to them about the issues was exciting for me and gave me a sense of pride that we are tapping into this talent and nurturing and supporting it. 
My other interaction was a bit more informal. I was hosting a young man who was an accepted applicant to SEGL and was visiting the school with a parent. I took him by the dorms and he had the chance to meet some of the other students during chore time after a meal. The SEGL students were thoughtful and answered his questions, but what was even more impressive was the conversation they were having during chores, which was very political and thought-provoking; not conversations you'd expect kids to be having while doing chores! The fact that a conversation like this was happening outside of the classroom reminded me of how unique and special SEGL is.
Q: In your opinion, what's the most meaningful thing that the school has accomplished? What is something that you're most proud of (past or present)?
A: The obvious would be the purchase of the residential buildings, which was a huge accomplishment for SEGL. The purchase means that we will have more funds available for needy students. Frankly, the fact that we've been able to offer the SEGL experience to so many students and have a wonderful pool of alumni is a huge accomplishment. The fact that 10 years ago there was no SEGL graduate, and now here we have this army of leaders, and leaders in their own schools and in their own aspects of life and in their own communities is a major accomplishment for SEGL.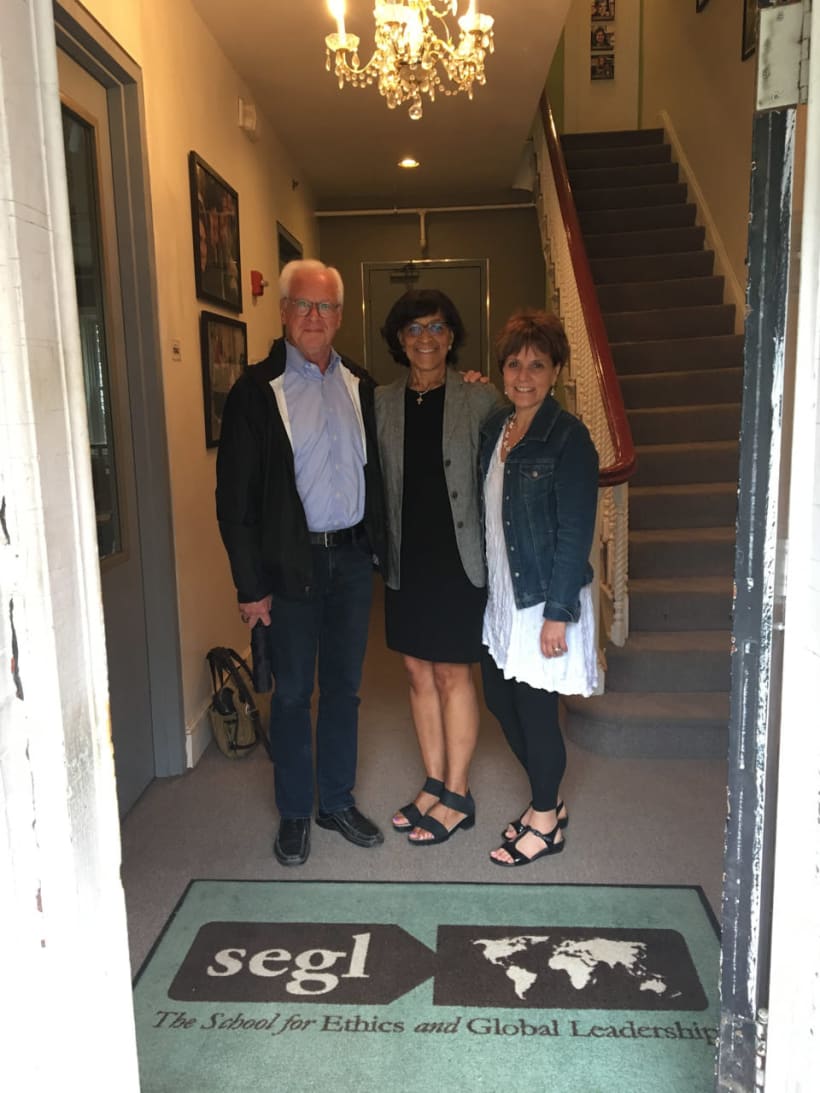 (From left: Dudley Lacy – outgoing SEGL Board Chair, Paige Cottingham-Streater – incoming SEGL Board Chair, and Liz Wainger – incoming SEGL Board Vice Chair)
Q: At SEGL, we encourage our students to "narrow their gap" between where they are and where they want to be. What's the most important gap that the school needs to narrow?
A: One might imagine that we would talk about finances – which is a reality. I appreciate the work of my predecessors who have helped to get us to the point of being financially stable and a healthy institution, but there's certain opportunity for growth in terms of building an endowment in the future, which will allow us to offer the program to every student who has a need.
Also, we've done a great job with having diversity in our student body (race, geographic, etc.), but I don't think we've had that same measure of success with our faculty and I'd love to see that gap narrowed. 
Q: Final thoughts? Anything else you want to add?
A: I want to take the opportunity to express gratitude. The school is a reflection of Noah's vision, but in order for that vision to play out it takes hard work and commitment from a loyal staff who have an incredible amount of passion for our mission and the kids at SEGL. I'd also like to thank the parents who send SEGL their kids, especially in the early years, when we didn't have the track record or reputation we do now. I'd also like to thank the generous donors who have contributed to SEGL over the years.  Whether they gave $10 or $100,000, their contribution has been transformative for SEGL and its students. Lastly, I'd like to thank the Board members, for not just being people who sign up to have their name associated with the School, but people who have been willing to invest financially and give their time. That to me, is priceless.