This week we confront one of the most challenging topics in the world: the Israeli-Palestinian Conflict.  We began on Monday morning with a PowerPoint overview of the conflict, in order to ensure that everyone had a basic understanding of the dispute.  Of course, each side's "basic understanding" of history is considerably different than the other's; these dual narratives are a key to understanding the intractability of the conflict.  Following the overview, we discussed (in rotating discussion groups) the 2010 "flotilla" incident and the demonstrations outside the Israeli Embassy in Cairo last week.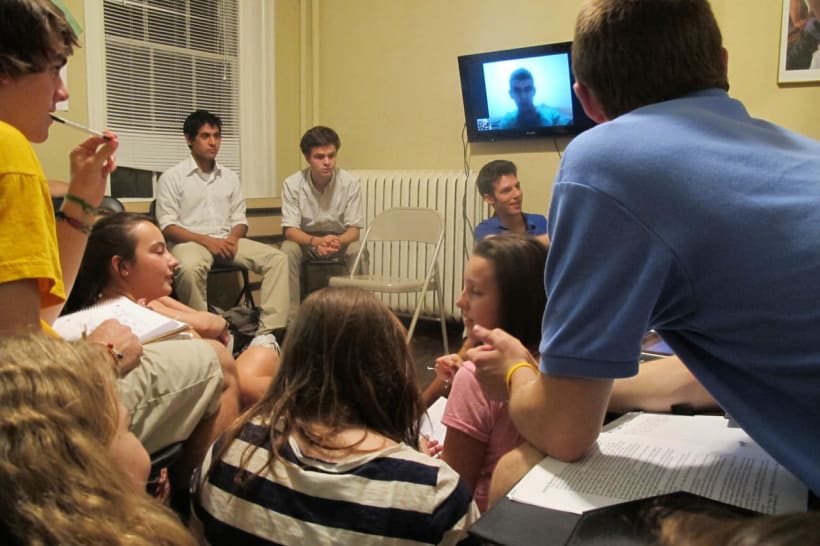 On Tuesday night during flex period we had a special visit from two SEGL alumni of Palestinian descent: Suhayb Al-Jawhari (now at American University) and Thaer Al-Sheikh Theeb (now at Columbia University; he joined via videoconference).  (Pete Olsson, their classmate, who now lives across the hall from Suhayb at American, joined us as well.)  Suhayb and Thaer spoke informatively and passionately about their view of the debate, and also about how SEGL influenced their opinions.
On Wednesday, the students trekked to the U.S. Holocaust Memorial Museum for a special guided tour.  Arriving an hour before the museum opened to the public, they spent two hours walking through the Museum's collection and hearing information that most visitors never hear.  Afterward, they participated in a reflective discussion over brown bag lunches in one of the Museum's classrooms.  Special thanks to SEGL board member and USHMM Director of Community and Youth Initiatives Jesse Nickelson for arranging such a memorable morning.
In the afternoon, we traveled to The American Israel Public Affairs Committee (AIPAC) building to meet with Jonathan Kessler, AIPAC's Leadership Development Director. AIPAC is the most influential pro-Israel lobbying group in the nation, and Kessler provided a sturdy explanation of his organization's views.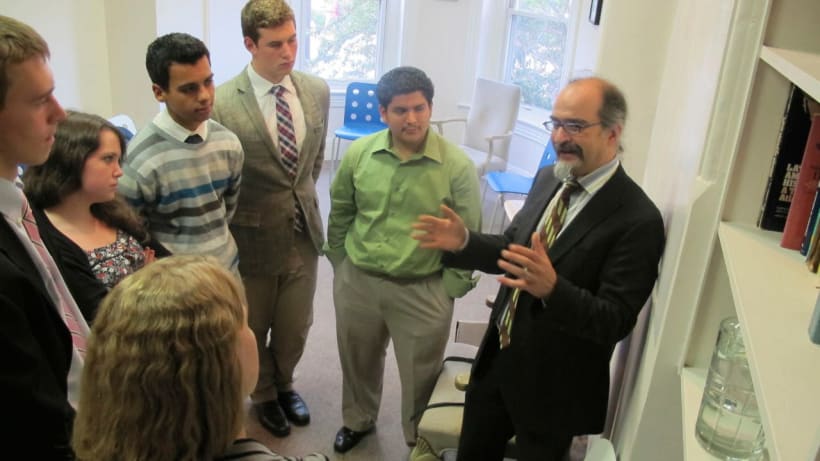 On Friday, we hosted Ghaith Al Omari, Executive Director of the American Task Force on Palestine, a pro-Palestinian lobbying group.  Al Omari was one of the lead negotiators at the 2000 Camp David Accords. For 90 minutes he answered excellent questions from students about Palestinian aspirations, telling riveting stories of his time as a leading advisor to Mahmoud Abbas along the way.  In our post-case study discussion, many students noted his comment that Palestinians and Israelis will never agree on history; the challenge is to ask what the future will look like.
The weekend featured an outing to the colorful H Street Festival a few blocks north of our residential building, The Lion King in 3D (apparently our students–many of them costumed–led the singing for the theater), an impromptu jam session with Robbie Ross, and scenes from Henry V.
This week we take on global HIV/AIDS, with a special visit from Ambassador Mark Dybul on Thursday morning.  Stay tuned!