The Israeli-Palestinian Conflict looms over a myriad of contemporary problems.  Countless leaders of the past and present have worked to address it in fits and starts and with limited success. This week our intrepid cohort of future leaders confronted the challenge, with hopeful results.
We began on Tuesday with a two-hour overview of the conflict. Stepping through the mine fields of loaded language and divergent narratives, we attempted to pin down key events and key negotiation sticking points (settlements, right of return, Jerusalem, etc.) and the various interpretations others have offered about them. The morning was filled with excellent questions and complex answers.
The students were then introduced to their first deliverable of the summer: to write a speech, and then deliver said speech to two White House speechwriters.  The students were instructed to write in the voice of either Senator John McCain, or Secretary of State John Kerry, addressing a hypothetical (but realistic) situation on the current troubles in Israel, and whether or not the United States ought to intervene militarily.
On Wednesday, we met [via videoconference] with Suhayb Al-Jawhari, an SEGL alumnus of Palestinian descent who is currently a student at American University.  He spoke informatively and passionately about his views, and the students enjoyed hearing how SEGL had influenced his thinking.
After a lunch of Potbelly's sandwiches, we ventured to the Israeli Embassy (a first for SEGL!) to meet with Noam Katz, Minister for Public Diplomacy.  The students got an insider's view  of the Israeli government's response to the developing situation in Gaza from Katz, who, after fielding a phone call from his son (a reservist in the IDF), spent some time talking about the political and social ramifications of the current military operations.  The students left these visits with a profound appreciation for the complexity of the situation and lots of fodder for their speeches.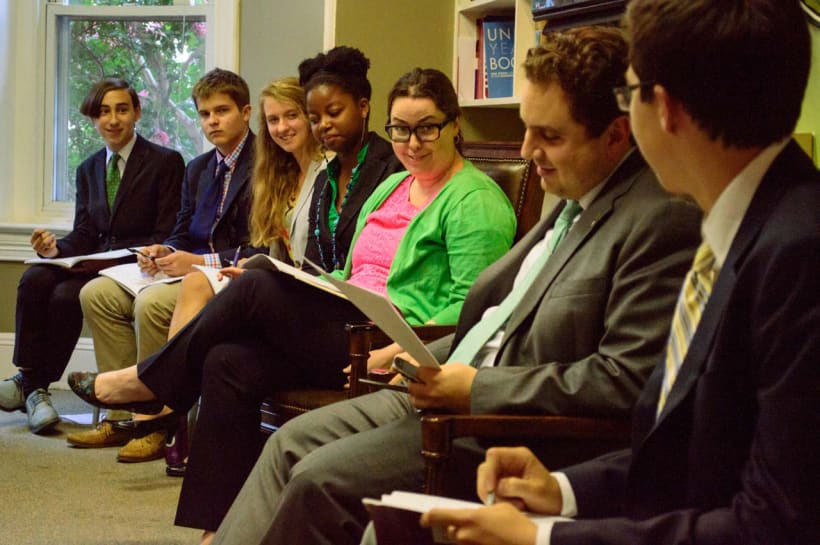 After a dinner of make-your-own pizzas and a somewhat frenetic evening of red pens, revisions, and recitation, the students delivered their speeches on Thursday afternoon to Megan Rooney and Daniel Benaim, speechwriters for President Obama and Vice President Biden, respectively.  After each speech, our guest speakers offered critiques, saying which parts they thought were especially good, asking the students what they might change, occasionally disagreeing with each other, and sometimes telling informative (and hilarious) "war stories" from their time as speechwriters in the White House.  The atmosphere was one of warm collegiality, and the students celebrated their work with each other afterward.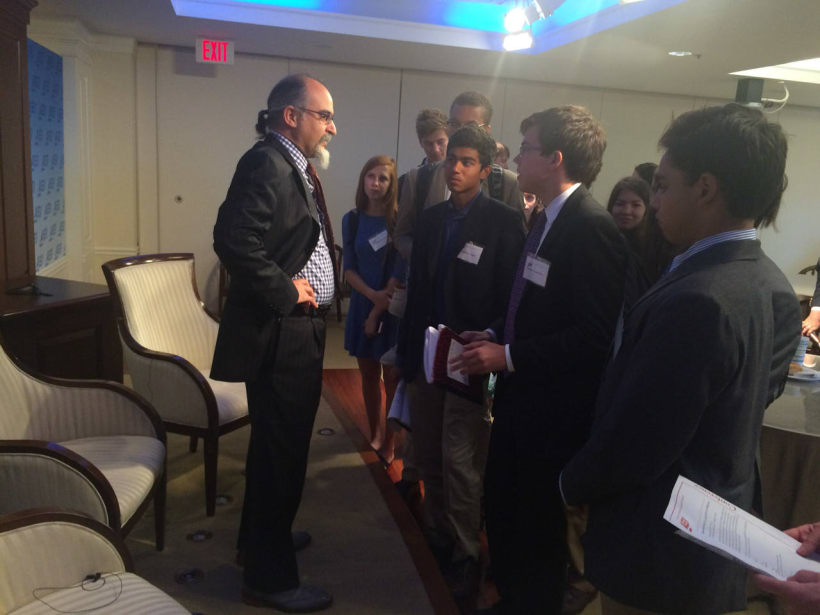 After case studies end, we are particularly pleased when students ask to hear additional perspectives to increase their understanding.  The week after this case study, we were able fulfill that request: we visited the American Enterprise Institute to see a conversation between Ghaith al-Omari and Elliot Abrams, both SEGL guest speakers, on the ongoing military operations in the Gaza Strip.  The students enjoyed what many would consider to be a classic DC event – a think tank continental breakfast, and spotting luminaries such as Paul Wolfowitz in the audience.
The best part, however, was when al-Omari gave us a shout-out from the stage!  (You can see a recording of the event here – the shout-out comes at the 3:30 mark!)
Next up: we tackle the Policy Document, Summer 2014's first capstone project.