At our Homecoming Gala on Saturday, October 15, 2011 we will inaugurate a new annual tradition: The SEGL "Golden Mug" Award.  We are delighted to report that our graduates have voted Egil "Bud" Krogh as our first honoree.  Krogh, a former Nixon White House official who is Senior Fellow and Chair on Leadership, Ethics, and Integrity at the Center for the Study of the Presidency and Congress, will be in attendance to receive the award from our graduates.
To RSVP for the Gala, please click here.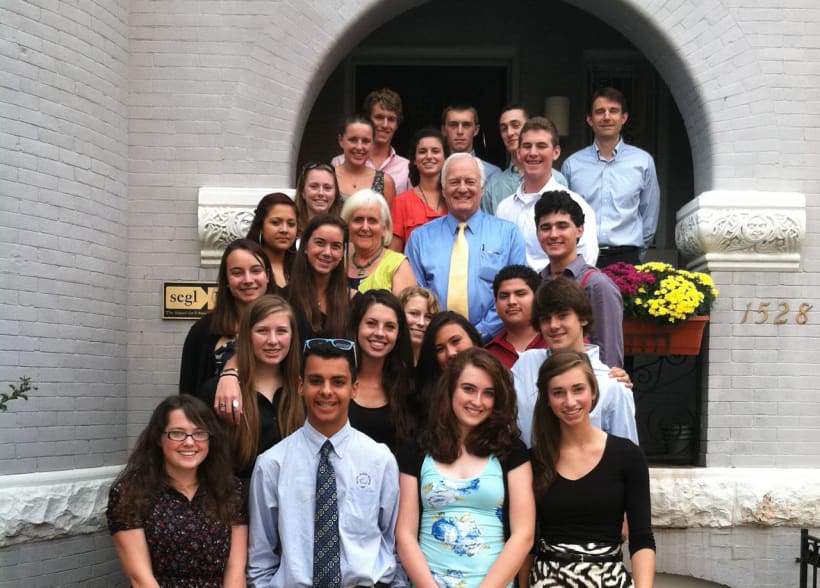 The Golden Mug is named for the SEGL coffee mug that we present to each guest speaker.  The award goes to the guest expert whom graduates feel contributed most to their development as leaders.  Krogh, who speaks twice each semester to our students and co-directed our inaugural summer program this year, is a wonderful choice.
For details on Krogh's life and a glimpse into what has made his presence at SEGL so powerful, please see his biography below.
The Gala will last from 7:30-10:00pm at 101 Constitution Ave NW, on the 9th floor Rotunda Terrace. We will be honoring Krogh with this award at approximately 8:45pm at the Gala Celebration.
Registration for the Gala is free.  We ask that you consider a contribution of $40 per person or $75 per couple to assist in our Homecoming fundraising effort.  You may donate online by clicking here or by sending a check to 1528 18th St. NW Washington, DC 20036.
The Gala is part of SEGL's Second Annual Homecoming Weekend, and you are welcome to attend any of our Homecoming events as well.  For more information, click on the registration link above.
We look forward to seeing many of you there!
–The SEGL Team
Egil "Bud" Krogh is Senior Fellow and Chair on Leadership, Ethics, and Integrity at the Center for the Study of the Presidency and Congress.  During his time on the Nixon White House staff, his responsibilities included District of Columbia governmental affairs, work with the early Special Investigations Unit (eventually known as the "Plumbers"), law enforcement, narcotics control policy, and transportation policy. His final position in the federal government was Under Secretary of Transportation in 1973.  As co-director of the White House "Plumbers," Krogh approved a covert operation as part of a national security investigation into the leak of the Top Secret Pentagon Papers to The New York Times. He later pleaded guilty to conspiracy and served four and a half months in prison.
Krogh later taught Ethics, Public Policy Analysis, and Administrative Law at Golden Gate University in San Francisco, and (after earning reinstatement to the bar) practiced energy law.  He has had 35 years to reflect on the lessons learned from his experience in the White House and their relevance to more recent political and business scandals. Some of his conclusions have resulted in The Integrity Zone®, a decision-making model intended to help people make choices based on integrity in their professional and personal lives. Over the last 5+ years, he has focused on spreading the message of integrity-based decision making through youth, corporate, public service, and legal education. In 2007, Public Affairs Press published his book Integrity: Good People, Bad Choices, and Life Lessons from the White House.  He is a member of the Honorary Leadership Council at The School for Ethics and Global Leadership.  For more information please visit <strong>budkrogh.com</strong>.