This week was one of the more fulfilling case studies in SEGL's history.  After a Monday morning session that got students reflecting on differences within our community (political, racial, socio-economic, geographic, and more), we spent time on Tuesday evening's Flex period (the evening without homework before Ethics and Leadership Wednesdays provides an extra opportunity for learning) watching and discussing the PBS documentary Ghosts of Rwanda.  The film outlines, in stark interviews and compelling images, the horrifying genocide that cost nearly 1 million Rwandans their lives.
Last week we learned how individual philosophers (like Aristotle, Kant, and Mill) and real-world practitioners (like Bud Krogh and Linda Jamison) react to different ethical dilemmas.  This week, in contrast, our students heard three different perspectives on the same ethical situation.  Each perspective came from someone who was intimately involved with the crisis.
First, we talked via videoconference with Carl Wilkens, the only American who chose to stay behind during the genocide.  Was it right for him to defy his government's orders? To risk leaving his family without a father or husband?  To negotiate with perpetrators of the genocide to help save an orphanage?  Many students found Wilkens' message of hopefulness and action empowering after such a dark documentary.  As he says in the documentary, "the thing about this is we've got to recognize in each one of us, there's such a potential for good and there's such a potential for evil."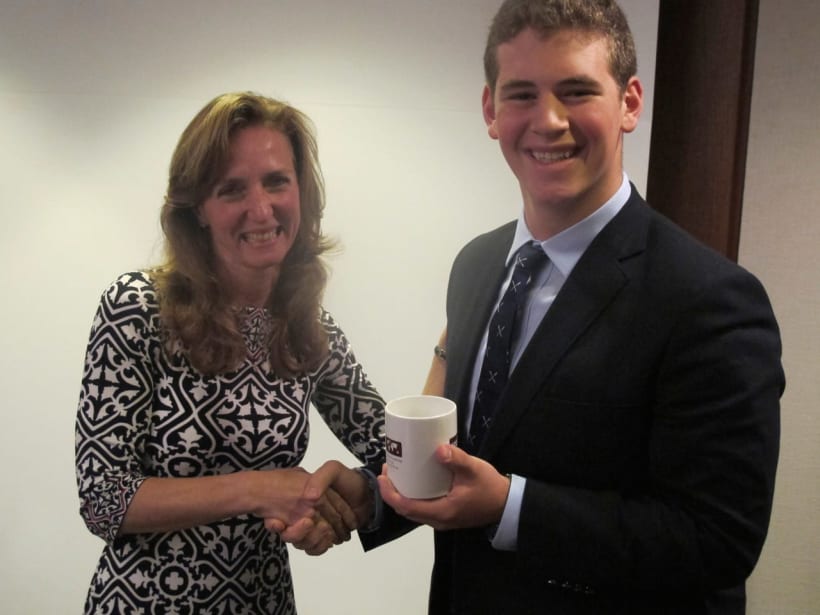 We then traveled to the executive offices of Citigroup to meet with Head of International Government Relations Laura Lane.  Lane was in charge of the American Embassy in Kigali, Rwanda during the genocide and was tasked with evacuating every American from Rwanda.  She saved dozens of Rwandan lives by dubbing them honorary Americans so that they could join the convoy leaving the country.  But she tearfully shared her regret that she did not disobey orders and keep the Embassy open.  Her regret was a fascinating contrast to Wilkens' conviction that he did the right thing.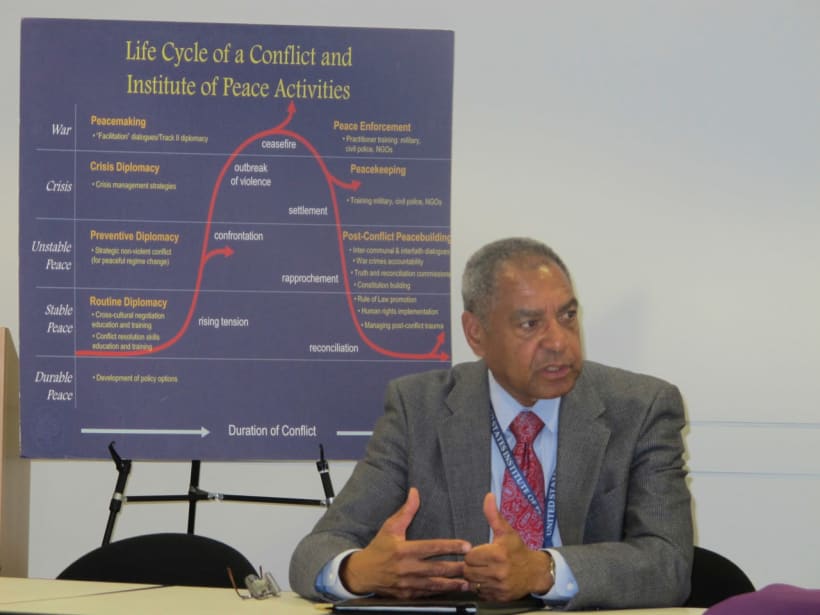 On Friday, we trekked to the brand-new headquarters of the United States Institute of Peace, located across the street from the State Department.  There we met with Ambassador George Moose, who served as Assistant Secretary of State for African Affairs during the genocide.  In the face of extraordinary, thoughtful questions from students, he helped students understand the complexity of the government's interagency process, the strain that the failed recent mission to Somalia had put on the Clinton Administration, and other factors that prevented U.S. intervention in Rwanda.  Moose himself expressed regret that he did not push his superiors more to respond.   Together we also discussed the role of government: when is it ethical for a government to risk the lives of its people to help others?  Some students left with a greater respect for Moose and the Clinton Administration, while others felt that no obstacle was too great if so many lives were at stake.
This coming week we tackle the challenge of Israeli-Palestinian relations.  Stay tuned for what is sure to be an enlightening and timely set of discussions.