The Master Class is a hallmark of the SEGL experience.  On several occasions during a term, we ask our guest experts to do more than provide expertise: we ask them to facilitate a class. These experiences become some of the most memorable intellectual moments of the entire semester. On Tuesday, former Nixon White House official Egil "Bud" Krogh led the first Master Class of the Summer 2014 term.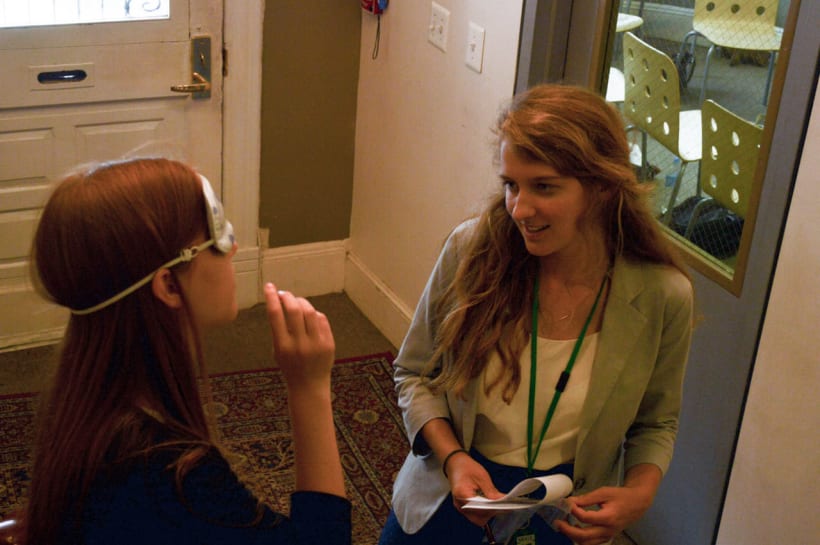 Our students were prepared.  On Tuesday morning, they faced The Infamous Skittles Scenario, a now-famous SEGL tradition that puts participants temporarily in a "state of nature," as described by social contract theorists like Hobbes, Locke, and Rousseau. With this handout as their introduction, the students raced through the hallways of our academic building, sharing, taking, negotiating, making alliances, and occasionally betraying each other in an all-out quest for resources, represented–of course–by Skittles. Afterward, they reflected on classic questions that will be with them for a long time: What is the basic nature of human beings? Are we selfish or altruistic? What does that say about how we ought to set up society? How we ought to interact with each other? How ought countries to interact with each other?
Following this discussion, we gave the students a short overview of Western ethical theory: Aristotle, Immanuel Kant, and John Stuart Mill. Click here to view a version of this lecture (taken from our online class) and here to see the lecture notes.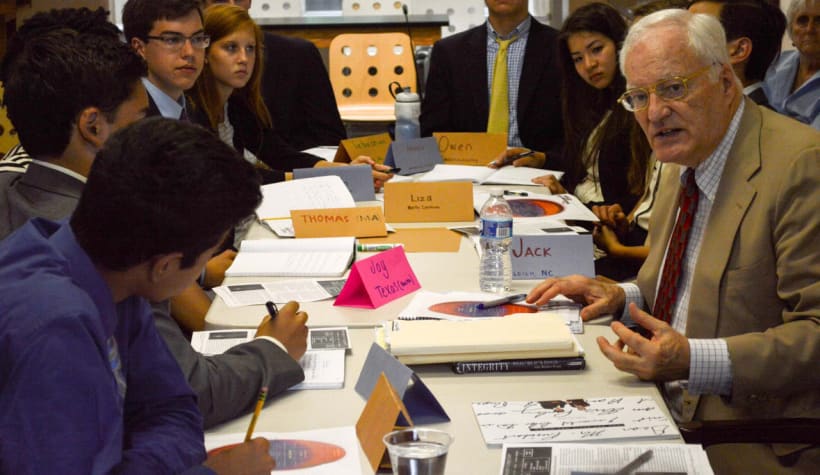 Then Krogh made the first of his two visits. Known to historians as the Director of Nixon's White House Special Investigation Unit, colloquially known as the "Plumbers," he is the author of Integrity: Good People, Bad Choices, and Life Lessons from the White House. In addition to being known as part of the infamous Plumbers unit, many consider him a master storyteller: he chronicled everything from the now-famous tale of Elvis Presley's visit to the White House (Krogh, Nixon, and Elvis were the only officials in the Oval Office that day), to a cautionary anecdote about the fat content in the hot dog, to a story about his intuition regarding a Supreme Court nominee who might have been racially biased, to his insider account about the break-in at Dr. Lewis Fielding's office in the wake of the release of the Pentagon Papers by Daniel Ellsberg.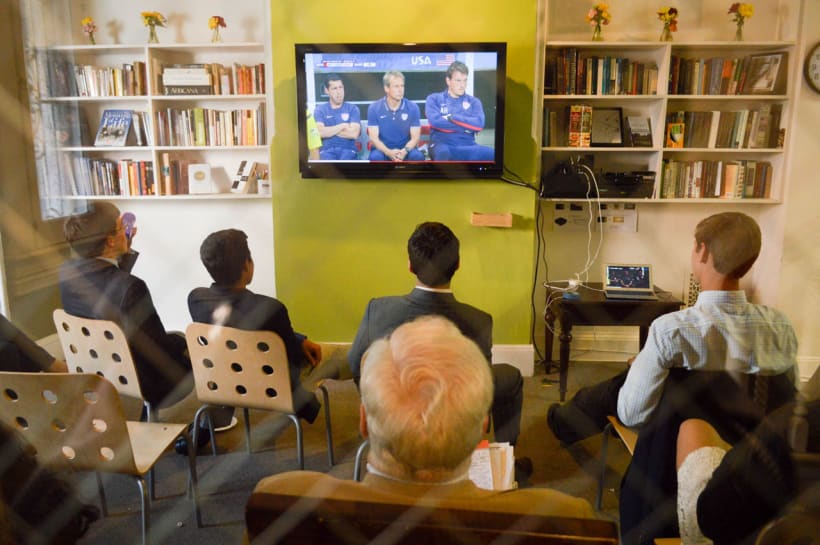 Each story was designed to help students remember another framework of ethical theory: Krogh's "Integrity Zone" decision making matrix. The system helps students recognize when their decisions might be affected by internal and external threats to Integrity (for example, "groupthink," "pressure for results," and "arrogance"). It also helps them understand why others might have made wrong turns.  After Krogh's lecture, he decided to stay with us to watch the United States' Mens' Soccer Team face off against Belgium (the students and Krogh had popcorn and Belgian chocolate to munch on!).
On Wednesday afternoon, Krogh returned for the two-hour Master Class. The class featured a particularly complex, life-and-death case study (please ask the students for more information–we don't want other future students finding out too soon!) from Krogh's work at the White House. Taught like a law school class, with lots of debating and defending, the session featured prescient and impressive ideas, happy laughter, participation from all, and a satisfying conclusion.
Thus ended our first case study of the summer. In the coming weeks, we hope the students will refine, expand, and apply what they have learned in these sessions to future case studies, and, more importantly, to their life choices. 
That same evening, we began our case study on leadership in times of crisis, in which we will investigate two different responses to the 1994 Rwandan genocide, and discuss the most effective responses to genocide.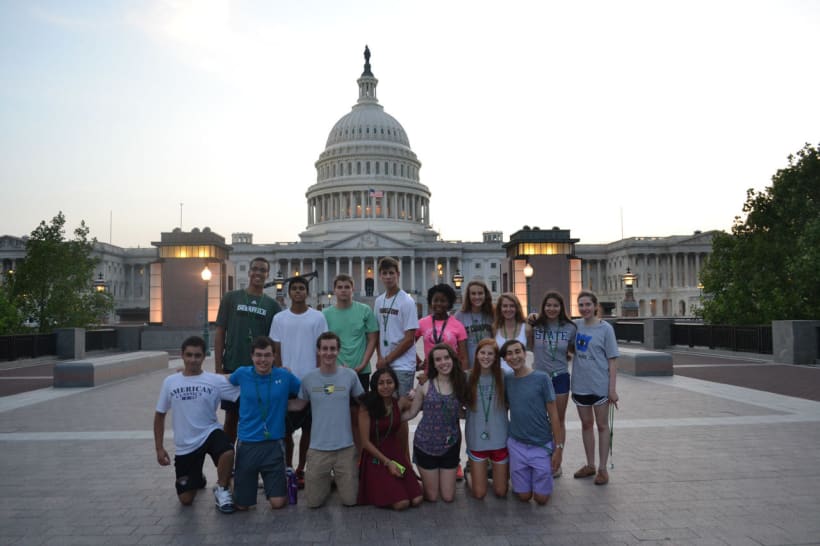 Summer 2014 is already building a special community this term through our walks home, our enlightening conversations over dinner and and breakfast, and through our evening activities.  Each evening the students engage in an activity meant to bring them closer together as a community, promote self-reflection and creativity, and, of course, create fun and long-lasting memories.  After dodging the rain on Thursday evening, they engaged in what is sure to become a much-beloved SEGL Summer Institute tradition: the SEGL Film Festival.  Four groups of students were told to make a short film including the phrases "That's not where I parked my car," "Do you want to build a snow man," and "Baby, you're a firework."  The results were predictably hilarious, but more importantly, pointed toward a summer of joyful community building and personal growth.