Bill Watterson once titled a bestselling Calvin and Hobbes anthology The Days are Just Packed.  We could have used the same title for the final days of the Spring 2014 semester.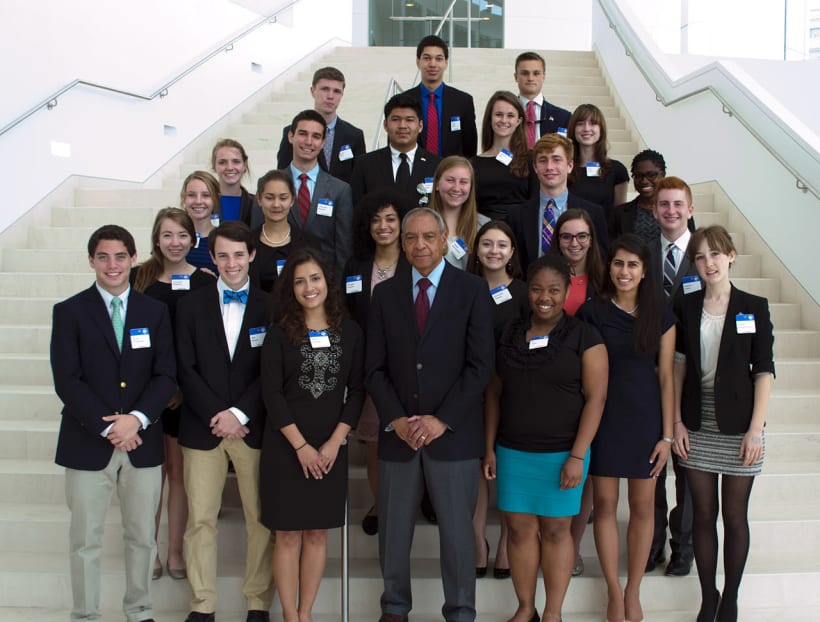 Imagine waking up on a Monday and meeting with Former Assistant Secretary of State for African Affairs George Moose.  Moose, now Vice Chair of the Board of the <span class="s1">United States Institute of Peace</span>, rounded out our Rwanda case study by discussing the many difficult priorities and ethical considerations that made intervening in that conflict particularly complex.  He also spoke eloquently about USIP and the warning systems being designed to identify and head off potential future genocides.
Then imagine traveling to the Pentagon to present a policy document on drone strikes in Yemen to three leading Defense Department officials (see here for more details).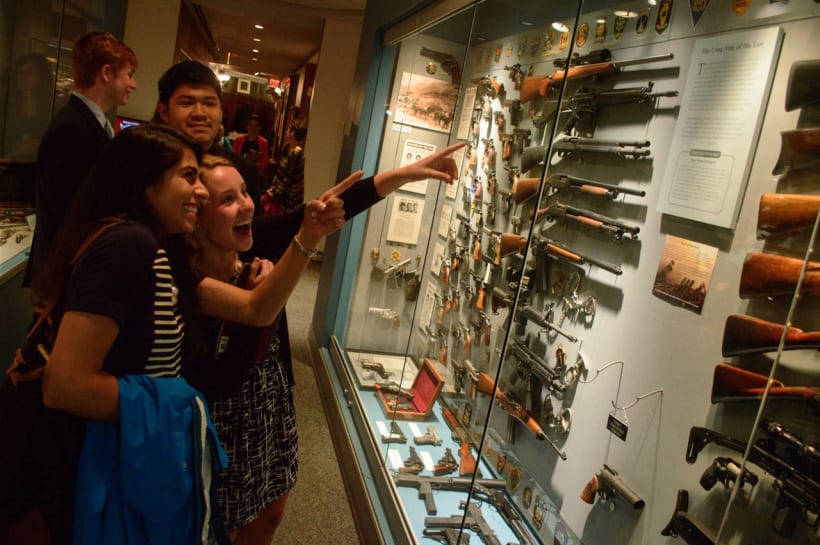 Ready to relax?  Wait: on Wednesday morning, we got up early to travel to the headquarters of the National Rifle Association.  There we met with immediate past NRA President David Keene, who put the finishing touches on our gun control case study.  Keene spoke passionately about the need to limit unreasonable gun control regulations, explained how the NRA responds to gun tragedies, and discussed the future of the gun rights movement.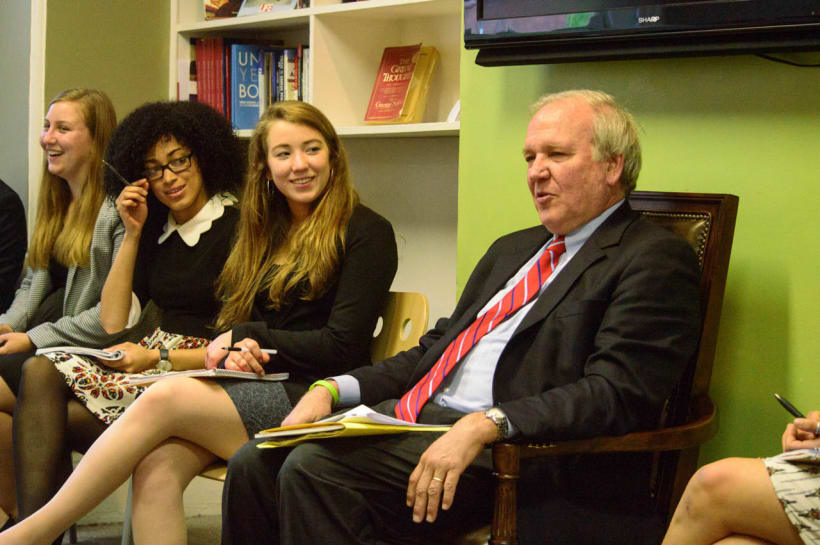 After driving home (through quite a rainstorm!) we hosted an extraordinary session with former White House Press Secretary Mike McCurry.  McCurry served for nearly four years as Press Secretary and was at the podium when the Monica Lewinsky scandal broke ("I'm not going to parse the statement" was his most famous line).  In small groups, our students researched real-life issues, wrote 1-minute statements about them, and elected one member to serve as a mock White House Press Secretary.  Each Secretary then read her or his statement and then took nearly ten minutes of grilling from McCurry, who acted as the White House press corps.  His questions were incisive, aggressive, and 100% real.  Each Secretary got the opportunity to think on her or his feet (a key SEGL skill) in front of the person one leading historian has called the best press secretary since the 1950s.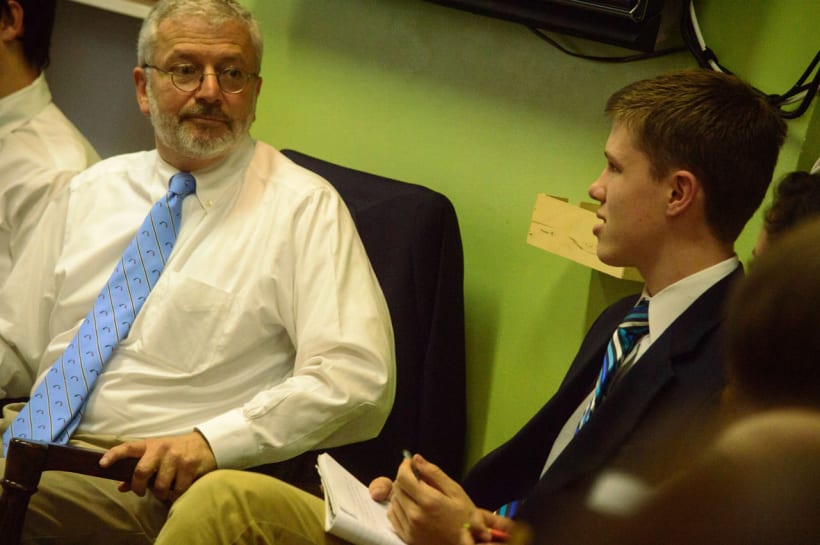 Think it can't get better?  Our final case study of the semester, on crisis management, brought two more memorable leaders to SEGL.  First, Former White House Chief of Staff Josh Bolten, a perennial SEGL favorite, returned to discuss–among other things–how he helped run the White House on September 11, 2001.  Bolten's soft-spoken anecdotes and earnest exhortations inspired our students to deep reflection; his gentle Socratic style also showcased how far many of our students have come since the opening weeks of the term.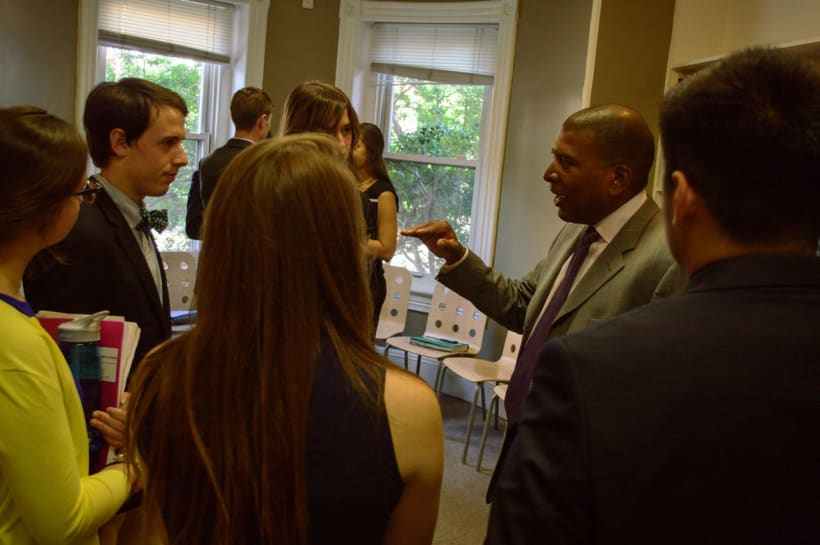 Later, we met with Ray Dempsey, Vice President for Governmental Affairs at BP, who discussed how he helped lead the response to the Deepwater Horizon oil catastrophe.  Dempsey impressed many students with his articulate advocacy for fossil fuels and his no frills approach to crisis management.
On our final Ethics and Leadership Friday our students participated in a five-hour, culminating crisis simulation in which each student played a member of the Executive Branch.  As the evening unfolded, several complicated crises developed that required the students not only to use the skills they had gained in the past week, but skills from the entire semester.  We can't share too many spoilers (who wants to limit the fun for future semesters?) but suffice it to say that our President spoke bravely and knowledgeably at the final press conference!
This week we have final exams, Credo and Social Venture Project presentations, and plenty of interpersonal bonding.  And on Saturday, we send another cohort of extraordinary leaders into the world.