Why do so many teachers want to work at SEGL?  Why do those of us who do keep coming back? Yes, our dedicated students, our unique mission, our vibrant surroundings, and our relationships with colleagues all contribute.
But without professional development, each teacher can only grow so much.
This is why The Gray Pederson Fund for Teaching Excellence was established in 2011, the same year I joined the SEGL faculty as Academic Dean and U.S. History/Comparative Government teacher.  That year, a group of parents seeded the Fund in honor of founding SEGL Academic Dean Gray Pedersen's retirement.  Since then, parent and board support of the Fund has facilitated dozens of important opportunities for each SEGL teacher to grow professionally and personally.  

A few examples: each fall, the Fund enables a brief all-faculty retreat where we discuss our practice, participate in Ethics and Leadership exercises as a faculty (yes, we've done the Skittles and Leadership Styles exercises ourselves!).  Between semesters, the Fund allows both new and experienced teachers to enroll in AP Teaching Institutes.  The Fund provides each teacher with a copy of Daniel Coyle's The Talent Code, Daniel Willingham's Why Students Don't Like School, and Carol Dweck's Mindset, which provoke our conversations and inform our collective pedagogy.  The Fund pays for visits to other schools to share best practices, attendance at global education conferences, and, this year, our efforts to help create the first annual Semester School Network teacher's conference.
Over the past few years we have also built up a comprehensive faculty support program, expanding our approach to new faculty training and pioneering a weekly mentoring program modeled after our highly successful advising program for students.  For the second year in a row, we developed and implemented a coaching workshop with Abigail Wiebenson, an experienced school head and close friend of the school, which provided a highly effective forum for new teachers to share challenges and collectively discuss how to respond.
I am not only one of the lead advocates for the Gray Pedersen Fund; I am also a recipient of its generosity.  I have just begun my second year of participation in Abigail Wiebenson's Mastermind Group for Division Heads, a program which has expanded my appreciation for the skills and nuance required for successful administrative leadership.  Among other benefits, these sessions helped me create and pioneer a new "Saturday Academy" at SEGL that provides new enrichment to our students without requiring extra faculty work hours.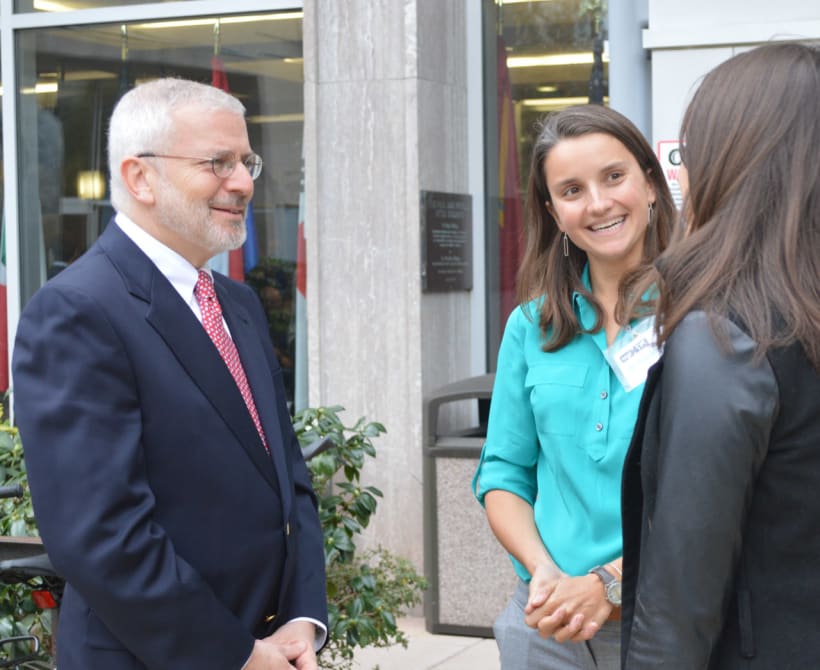 Professional development at SEGL extends beyond the Fund. Thanks to the recommendation of former White House Chief of Staff Josh Bolten, a longtime friend and featured guest speaker at SEGL, this past summer I had the opportunity to serve as a delegate to the American-German Young Leaders Conference in Berlin.  In addition to discussing the nuances of our Trans-Atlantic relationship with an impressive group of young professionals from both the U.S. and Germany, I had the opportunity to learn about Germany from some of its most dynamic and influential leaders.  We met with Germany's famous Minister of Finance, Wolfgang Schauble, while he was in the midst of negotiating a new deal for Greece at the peak of the debt crisis.  We had dinner with Interior Minister Thomas de Maizière, former Vice Chancellor Fischer, Ambassador John Emerson, and General Peter Schelzig, the Vice Chair of the Joint Chiefs (with whom I also had the chance to discuss the future of Chinese politics!).  Throughout the entire trip I was under the clear impression I was experiencing a Trans-national, adult version of SEGL: the fact that we were 24 Americans and 24 Germans–as opposed to 24 American high school juniors–experiencing such a compelling program seemed more than just a coincidence.
What I learned this summer and what I learn in the Mastermind sessions translate into much of my teaching and administrative work at SEGL: for example, I introduced a new EU unit in my Comparative Government and Politics course featuring a mock EU Summit on migration.  Through the connections I gained in Germany, I was also able to arrange for our students to meet with a Germany Desk officer at the State Department working on migration issues, and brought several students to a panel discussion on migration featuring Anne Richard, Assistant Secretary of State for Population, Refugees, and Migration.  My understanding of the German perspective has been greatly enriched.  Prior to this summer I had little understanding of the depth of the damage done by our surveillance programming, yet it has been pivotal in shaping current discussions of American global leadership throughout Germany.  
As we work to help the next generation of American leaders shape themselves into ethical leaders who will create positive change in our world, it is critical that we take the time to develop and advance our own perspectives and pedagogy on issues of global significance. I'm glad SEGL is the kind of place that supports that kind of vision.  And I am grateful to the many parents, board members, and friends of SEGL who make this kind of work possible.    
To support the Gray Pedersen Fund for Teaching Excellence, click here and select the Fund from the pull-down menu.  You can also send a check to 1528 18th Street NW Washington, DC 20036. Thank you!