In a week dominated by the death of Ruth Bader Ginsburg and the nomination of Amy Coney Barrett, we also took time to focus on what many believe is the defining issue of our generation: climate change.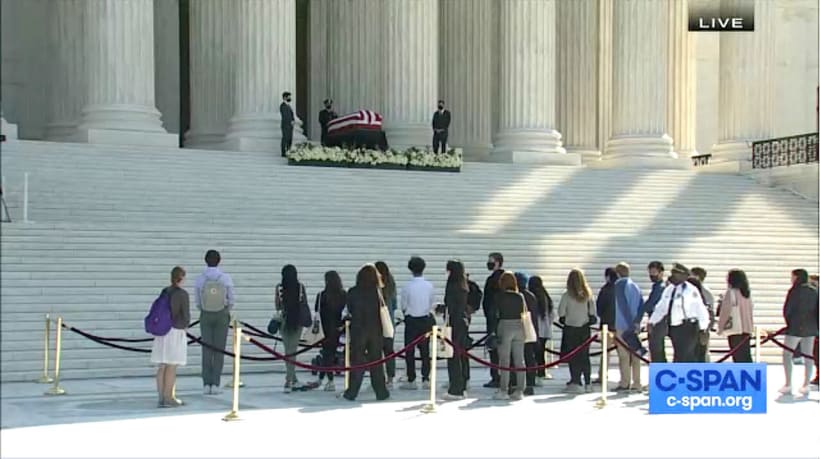 The week started on a sober note: on Monday morning we sat on the lawn across from the Supreme Court to discuss the meaning and significance of Justice Ginsburg's death and the nomination battle to come. It is an SEGL tradition to "stop the school" when a current event has an outsized impact on history; Ginsburg's death certainly meets that criteria.
Then, on Wednesday morning, students organized a return trip to the Court, this time to pay respects to Ginsburg, who lay in state at the top of the Court's white steps. They became among the first to file past the casket, stopping long enough to be seen on television cameras around the world.
Later on Wednesday we introduced students to climate policy: key past and present U.S. policies, government agencies created to focus on the subject, and international agreements like the Kyoto and Paris pacts. This introduction gave students essential background knowledge to inform their future conversations.
On Thursday, we welcomed Khary Cauthen back to SEGL. Cauthen was our first in-person guest expert after several weeks of virtual meetings, and the students were clearly excited. We met outside on our temporary academic building patio, with canopies overhead, plenty of social distancing, and microphones to help everyone hear through face masks and the outdoor ambient noise. Cauthen is a former Special Assistant to the Chairman of the White House Council on Environmental Quality in the George W. Bush Administration. After two years at CEQ, Cauthen transitioned to a thirteen-year career at the American Petroleum Institute, the leading oil and gas trade association and lobbying group. He is now Vice President at Cheniere Energy, which focuses on Liquified Natural Gas. Cauthen took a variety of penetrating questions in stride, providing insight into topics like the Green New Deal, China's status as a "developing country," and the role of government in mitigating climate change.
The following morning, Congressman Greg Walden (R-OR) stepped onto our patio for a full hour of spirited conversation. Walden is finishing a 22-year career in Congress, where he currently serves as Ranking Member of the House Committee on Energy and Commerce. The lone Republican in Oregon's Congressional delegation and representing a largely rural district, he addressed questions on energy innovation, nuclear energy, the current energy bill on the House floor, and more. He also spoke about the recent demonstrations and violence in Portland (which borders his district) and the wildfires engulfing much of the West Coast.
(You may notice in the photos below that Mr. Cauthen and Congressman Walden did not wear their masks for their entire visits. We think this was unintended and understandable; because they were on our property, it did not violate the DC Mayor's order. Given that our students were outside, 10-15 feet away, and wearing masks, among other precautions, we believe the situation was safe. Nevertheless, we have since purchased a Plexiglass barrier to place between future speakers and our students. We also sanitize all microphones after each session.)
Later this semester we also plan to meet with Trigg Talley. As the Director of the Office of Global Change at the Department of State, Talley served as the top U.S. State Department negotiator on climate change. In his work at State, he was the principal negotiator for the Paris Agreement and the further conferences that decided on its implementation. It should be a fascinating discussion!
This week we also took time to introduce SEGL's social venture project capstone. You will hear more about this in the weeks to come. To help us introduce the "SVP," we welcomed Fall 2016 graduate Elad Raymond, the founder of the Onero Institute (his SEGL SVP).
This week we are working with longtime top Hillary Clinton speechwriter Lissa Muscatine. More on that soon!