The Israeli-Palestinian Conflict looms over a myriad of contemporary problems.  Countless leaders of the past and present have worked to address it in fits and starts and with limited success. This week our intrepid cohort of future leaders confronted the challenge, with hopeful results. We began on Monday with a two-hour overview of the conflict. Stepping through the mine fields of loaded language and divergent narratives, we attempted to pin down key events and key negotiation sticking points (settlements, right of return, Jerusalem, etc.) and the various interpretations others have offered about them. The morning was filled with excellent questions and complex answers.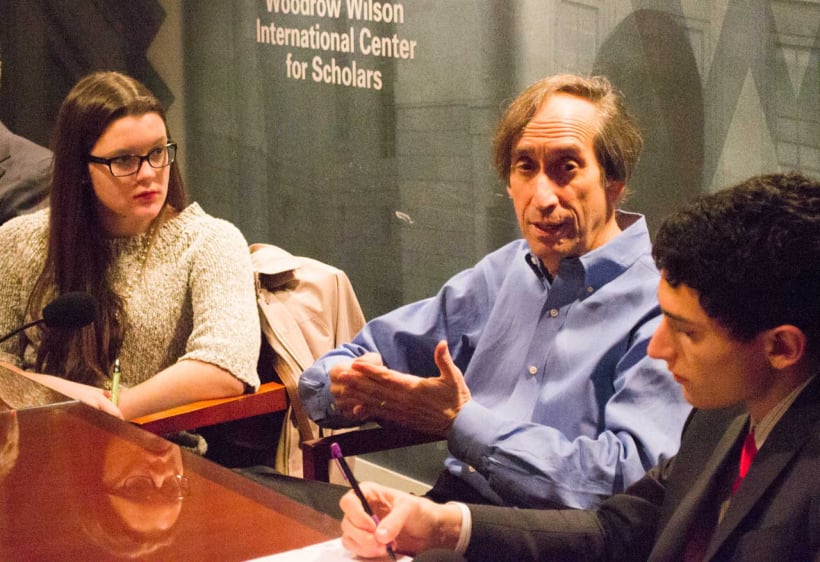 Our first meeting was a short Metro ride away at the Woodrow Wilson Center to meet with experienced negotiator, advisor, and academic Aaron David Miller. Miller, who was at the table for the United States during the 2000 Camp David II negotiations and who has counseled six Secretaries of State, shared his perspectives on the conflict as well as some of the reasons it appears more intractable than ever. Chief among those reasons: a decreasing ability to focus for long periods of time on an issue due to technology and social media, and a lack of empathy. His words exhorting our students to overcome those challenges were scribbled earnestly in two dozen notebooks.

We then traveled to meet with with Jonathan Kessler, Leadership Development Director at the American Israel Public Affairs Committee (AIPAC). AIPAC, arguably one of the most influential lobbying groups in the country, has its high-security headquarters north of Judiciary Square in DC. Kessler's articulate perspective got students thinking. What are the best ways for U.S. citizens who support Israel to do so? What do Israelis think about the United States' role?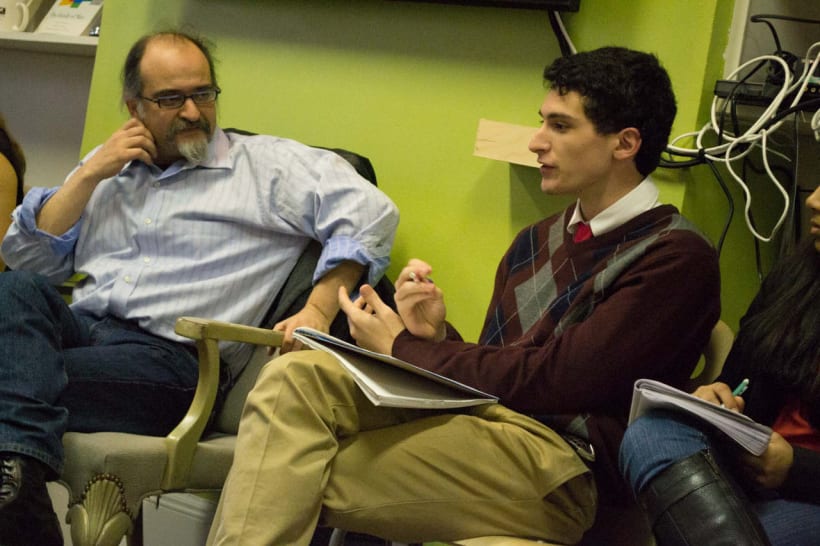 OnFriday we met with Ghaith al-Omari, Executive Director of the American Task Force on Palestine. Al-Omari was at the table for the Palestinians during Camp David II and has served as Director of the International Relations Department in the Office of the Palestinian President, and advisor to Palestinian leader Mahmoud Abbas. His thoughts, delivered in the organized prose of an Oxford-educated lawyer (as he is), made students think as well. Is the crisis best thought of, not as an arranged marriage, but as a complicated divorce settlement? What is the best way for college students to work on this issue?
After case studies end, we are particularly pleased when students ask to hear additional perspectives to increase their understanding. This week was certainly no different. As the semester progresses, we are often able to work with students to make these encounters happen.
This week also marked our second foray to Thomson Elementary for our weekly Books and Basketball service activity. For half of each hour-plus session, our students provide one-on-one and small group reading opportunities at Thomson, a Title I school where the majority of students are English Language Learners (Spanish and Chinese). It is often their best opportunity to improve basic reading skills outside of school. For the other half, we provide an ongoing basketball clinic that works to improve teamwork, discipline, fine motor skills, and confidence. It is often the first and only organized sports activity of their lives. We hope to have some pictures up soon!